OCTOBER 9, 2014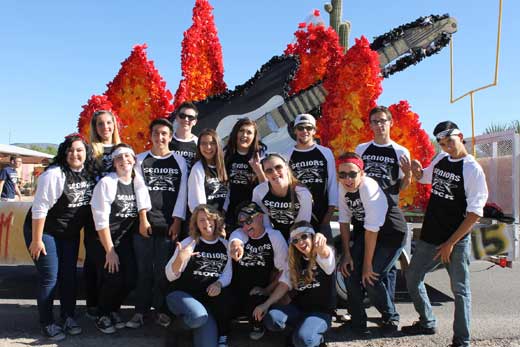 The CSHS Student Council Seniors float, "Seniors Rock." This year's CSHS Homecoming theme is Rockin' Homecoming (a long week of music festivals), so there was one Rockin' Parade last Saturday!
Photo by Cameron Bender
OCTOBER 8, 2014
Tickets now on sale for annual fundraising event at Scottsdale Plaza Resort
SCOTTSDALE – Camelot Therapeutic Horsemanship will host its annual fundraiser, Starry Knights, on Saturday, October 25 and will once again shine the spotlight squarely on its extraordinary students.
OCTOBER 8, 2014
Cave Creek Museum Artifact of the Month
Look closely at this sweat and dust encrusted hat. For years, this crowned George Mileham. At George's funeral in 1981, hundreds of locals gathered to mourning the passing of one Cave Creek's "last cowboys."
OCTOBER 8, 2014
Aravaipa Running – Desert Runner Trail Series
Now in its fifth year, the Cave Creek Thriller will be branching out to explore freshly laid single track on the Maricopa Trail. 50K runners will start at the Agua Fria Trailhead near Lake Pleasant and travel along the Maricopa Trail, a short section of the Black Canyon Trail, pass through Anthem along a desert corridor, climb past Spear S Ranch and finally enter Cave Creek Regional Park to finish along the Go John, Quartz & Overton Trails.
OCTOBER 8, 2014
CAVE CREEK – Every year, hundreds of horses are abused, neglected or abandoned in Arizona. Triple R Horse Rescue, which will host the second annual Hope for Horses Gala on October 11, 2014 from 5 – 9 p.m. at the Carefree Resort and Conference Center in Carefree, Ariz., to focus the community on the rescue, rehabilitation and re-homing of the horses turned over to its care.
OCTOBER 8, 2014
Piano Sensation Jim Witter To Headline Gala; Benefitting Annual Music Festival
NORTH SCOTTSDALE, CAREFREE, CAVE CREEK – Arizona Musicfest will host its annual fundraiser, "Applause" on November 12 at 6 p.m. at the Troon Country Club.