BY MARIELLE D. MARNE | MAY 7, 2014
Spur Cross Stables recaptures spirit of west on tailored trail rides
CAVE CREEK – When you're situated in the shadows of a famed landmark like Elephant Butte, you've got some lofty expectations to live up to. Yet at Spur Cross Stables, the excellence of the experience every bit rivals its surrounding natural splendor. There's a reason Spur Cross Stables has enjoyed success since its inception in 2002, even being honored a Phoenix "Best of" countless times, as recently as 2014.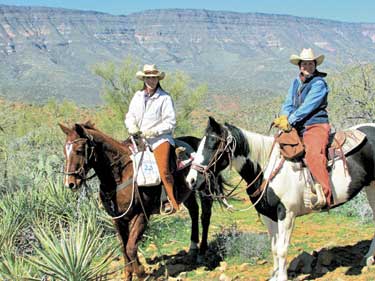 In addition to horses that are friendly, easy to handle and fun to ride, the wranglers (or guides, to city folks) are the true thoroughbreds of operation. As Diane Treacy explained, there's more to it than hopping on a horse and leading clients into the sunset. Safety is a priority for customers (riders must be at least 5; under 13 require helmets) and equines (max. rider weight 250), so riders are introduced to their steeds and given need-to-know tips. While treks can be customized, for instance if you want to ride and listen solely to the sounds of the desert, your wishes will be granted. However, don't miss out on the opportunity to learn about the area's flora, fauna and history. Guides are well versed and can point out hiding spots for mule deer and know when various plants will be in bloom to truly enhance the journey. While Spur Cross boasts temps roughly 10 degrees cooler, wranglers do keep watch for participants not coping well with the heat. Since Spur Cross Stables is open year round, feel confident to don your jeans, pull on your cowboy boots and take a trail ride that offers a saddleback perspective of Arizona.

Come as a family, a couple, a corporate outing or for a team building exercise. Call for reservations at 480-488-9117, go online at www.horsebackarizona.com for rates (prices do not include taxes/gratuity) or visit Facebook for high praise from clients straight from the horse's mouth.