BY MARIELLE D. MARNE | JANUARY 15, 2014
New year, new skin, new you, all at L Skincare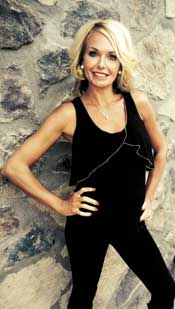 CAVE CREEK – In this new year, don't think resolutions, think renewal, skin renewal, that is! To achieve this, Lindsay Jackson (l) suggests L Skincare's Signature lift peel.

This revolutionary four-layer facelift will truly change the "Image" of your skin in just one application. Vitamin C, glycolic acid and gently but highly active enzymes speed up cellular turnover and brighten, tighten, lighten skin in a single treatment. Imagine a facelift … without a doctor's order or prescription.

"You really do see incredible results," Jackson confirmed.

"To maximize these results, I suggest six treatments spaced two to four weeks apart. However, each peel will show improvement in the skin and using Image Skincare for home care is important, because I don't work magic, you still have to do your homework! I always stress the difference in over-the-counter products versus cosmeceutical grade. Cosmeceutical products penetrate to the cellular level while OTC products can't penetrate past the stratum corneum (dead skin cells)," she explained.

Because Lindsay loves what she does, she wants others, women and men, to be enthused about their appearance and view taking care of themselves as maintenance not a luxury. Thus, she has some specials on top of her already affordable prices. Enjoy L Skincare's Signature lift peel for only $50. Add in a deeper microdermabrasion treatment for $25. (Regularly valued at $145!) Also with a mention of this article, Jackson is again offering a half-hour express facial for $35!

The Arizona sun, dry air, and the searing heat are all bad for the skin. Yet, it's never too late to undo the damage. Jackson not only has the techniques and equipment to make you look younger with her customized treatments, she can advise on the best products to use and has them in stock. She listens and is very willing to consult with clients so they always put their best face forward.

Find out what she can do for you by calling 480-427-8559. L Skincare is located 7100 E. Cave Creek Rd., Ste. 141, in Stagecoach Village.