BY MARIELLE D. MARNE | DECEMBER 18, 2013
AC by J's plumbing pros continue to unplug and impress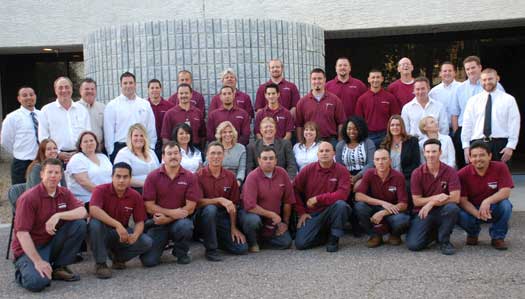 All year long, AC by J is available 24/7 for your heating, cooling and plumbing needs. Since it's the time that freezing temps become a real possibility, and many folks have likely forgotten they not-very-long-ago had to replace broken pipes and cracked irrigation lines, AC by J's plumbing manager Tim Clay offered tips for a smooth winter season.

"Right now, we're running a $29.95 water heater tune-up," he said. They drain the tank (and being enviro-friendly, they'll funnel it to plants, flowers, lawns, so as to not waste water), check the safety relief valve, visually inspect and make sure hot showers are in your future!

If temps are forecast to be frigid, protect your outside plumbing and/or pool filler lines. "Often, a heavy blanket will be fine," he added. When in stock at hardware stores, pipe insulation tubes are also effective. Or, using the hose bib in the back of the house, attach a hose, drag it to nearby shrubbery and allow a slow trickle to water the plant. "Water movement will discourage freezing."

While cooking and cleaning this holiday, avoid dumping grease, potato peels, raw veggies, anything fibrous, down kitchen garbage disposals. A drain that's not clogged up will no doubt keep you cheered up!

Despite homeowners' best efforts, plumbing sometimes fails. Currently, AC by J is waiving trip charges, not charging overtime/holiday fees and is providing free estimates on plumbing repairs. (Does not apply to HVAC.) For any plumbing issues, know you're in good hands because the team at AC by J has over 60 years experience in the industry.

Remember, if the homestead falls to be toasty, AC by J has a full fleet of certified and professional HVAC techs at the ready, so phone 480-422-4335 for plumbing, heating and cooling comfort.