BY MARIELLE D. MARNE | SEPTEMBER 18, 2013
Pate-Hanson Team is win-win for real estate buyers/sellers
SCOTTSDALE – It's a premise that has stood the test of time - clients always come first. The Pate-Hanson Team believes this is the only philosophy to follow, and they have countless stories to prove it.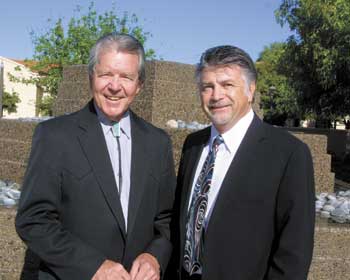 With 30 years expertise, Ralph Pate understands the housing market. He enjoys the buying side of the industry and thrives on finding someone the perfect home. "When someone calls me to find a home I interview them to find out what they want. Once I find a few options, I email the listings. When I follow up, I not only ask what they liked about the property but also what they disliked," Pate explained. It seems like a simple thing, but often in this fast-paced world, people don't take the time to listen. Dislikes can be as compelling as desires. Pate is a cowboy at heart, with lots of equine experience, so he loves working with horse people to locate ranches or horse properties.

While either of the Pate-Hanson Team can assist in all aspects of real estate, Gregg Hanson appreciates the selling side of the equation. With 15 years experience, he can offer advice to get top dollar. Painting shabby walls, fixing leaks and/or any water damage, decluttering, easy and cost-effective ways to be more appealing to buyers.

Pate added they have resources for buyers, sellers and homeowners. If you need a home inspector, title company, home warranty, landscaper, even remodeling, they can help. One couple was undecided whether to put their home on the market or not. Once Pate listened to their concerns, what he heard was that the home was older and just needed updating. Pate recommended some remodelers, the work was done and everyone was happy. No doubt Pate will be remembered for his kindness when it comes time to sell.

With the Pate-Hanson Team/Realty One Group, clients come first. Find out why so many satisfied buyers/sellers subsequently become friends by calling Pate at 602-750-4653 or Hanson at 480-518-6300 or visit pate-hansonteam.com.