BY MARIELLE D. MARNE | SEPTEMBER 4, 2013
In-home care by Nurse Caregiver Options is best option for those you love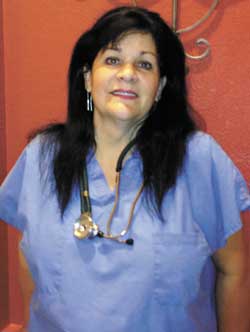 The sentiments are powerful: "Cheryl has been a blessing to our family." (Barb Halaburda) "Is Cheryl coming to see me today?" (Robert Carsia's 90-year-old mother) "Had Cheryl not done what she did for me, I would not be writing this testimonial for her now." (Blaine Keith)
Since Cheryl Petruce-Garcia, LPN dove into Nurse Caregiver Options full-time this summer, she's been receiving countless compliments from her clients and their families. They appreciate her flexibility in scheduling, her personalized plans depending on a patient's needs and her willingness to advocate on behalf of the client/family with other healthcare providers. Petruce-Garcia is trained to notice little issues that could turn in to big ones – dehydration, wounds not healing, improper diet, missed meds, low blood pressure. Halabura added, "She gives us peace of mind our parents are being well cared for when we can't be there. It has allowed them to stay in their own home as long as they have."

As in the case of Mr. Keith, Petruce-Garcia's 30 years of experience meant the difference between life and death. "On June 25, my left mitral valve malfunctioned and caused me to pass out." A friend placed a nitrostat under Keith's tongue and called for Cheryl. She started CPR and saved the day and a life. Is your caregiver equipped to handle such emergencies?

When you call Nurse Caregiver Options, know you will get Petruce-Garcia every time. (A common complaint with corporate-type caregivers is a different person shows up virtually each visit.) Care can be short or long term and can be in the capacity of a companion to nursing care. Visits are tailored to needs, but an hour minimum is required. In addition to flexible spending accounts, clients may use cash and/or credit cards.

For more information, visit nursecaregiveroptions.com and then call Cheryl Petruce-Garcia at 602-300-2904 for a complimentary initial consultation. This is her life's work, her passion, her calling and it shows.