BY LINDA BENTLEY | FEBRUARY 13, 2013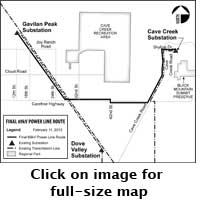 CAVE CREEK – APS announced last week it had made a final decision on the route for the 69kV power line from the substation located on Basin Road and Skyline Drive, which will provide a connection to the Gavilan Peak Substation in Desert Hills and a source of alternate power in the event of an outage.

APS Project Manager Richard Stuhan said APS decided on the purple route, one of five routes considered during the public information and comment period.

He said the route along Carefree Highway was considered the best route from an environmental, cost and public opinion standpoint, noting that route received the least number of negative comments and was the route that received the most support.

The selected route will require new, larger, rust-colored poles to be installed along Skyline Drive and will connect to existing poles on Cave Creek Road south to Carefree Highway, where the new lines will go west along the south side of Carefree Highway to 42nd Street, at which point it will cross the highway and then continue west to 28th Street where it will connect to the existing poles heading northwest to the Gavilan Peak Substation.

Stuhan stated the design still needs to be finalized, which APS will work on concurrently with its right-of-way acquisition for the approximate 3.25-mile stretch along Carefree Highway and possibly along Skyline Drive.

According to Stuhan, APS will do all it can to minimize the impact of the new larger poles that will be going in along Skyline Drive and there is a possibility they may be able to reduce the number of poles from what is there now.

APS will also be working with the Maricopa County Department of Transportation on sighting poles along Carefree Highway, since it has future plans to widen Carefree Highway to six lanes.

While there is a possibility there may be a pole or two fronting the Whispering Hills subdivision along Carefree Highway, the vast majority of the selected route fronts commercially zoned property.

Although it appears there should not be a problem with obtaining right-of-way for the 69kV project, Stuhan said APS would not rule out condemnation if necessary.

Cave Creek Mayor Vincent Francia said he and Vice Mayor Ernie Bunch did everything they could to minimize the impact of the project on Cave Creek residents, but as he stated all along the decision was ultimately all up to APS.

APS expects the 69kV project to be in service sometime during 2015.