JANUARY 16, 2013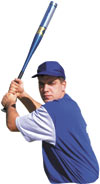 Take your kid to the next level! Total Sports Performance (TSP) is open for business.

TSP is a New Indoor Batting Facility and we are holding tryouts for a competitive 9-10 and 11-12 baseball team. This is a club team that will play in the fall, winter, and spring which will consist of weekend tournaments and league games.

Included is a team field practice, individual one-on-one lessons at our performance center and games on the weekend. TSP's baseball team will be focusing on proper baseball fundamentals on the field and in the performance center. Field practices will focus on teaching young athletes how to properly stretch and warm up, throw long toss and learn the importance of injury prevention. Fielding practice will help develop their skills in base running, bunt defense, first and third defense, and how to cover their position.

Practice in the performance center will focus on hitting, pitching, catching and middle infield drills in an individualized atmosphere. This will help develop the understanding of proper mechanics and the mental aspects of the game.

To sign up for tryouts or questions on individual lessons or cage rentals please contact or Coach Chris Matusz at 602-828-2442, Chris@totalsportsaz.com or Coach Ron Palma at 480-225-6972.