BY LINDA BENTLEY | NOVEMBER 28, 2012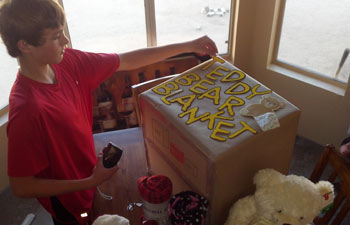 Inspired by the song, "With my own two hands" by Ben Harper, Hunter Markusen, pictured making a donation box, has chosen to do a teddy bear and blanket donation drop off as his English class project. Courtesy photo | Rich Burden


PHOENIX – With a mom who works for Child Protective Services and a step-dad who is a Maricopa County Sheriff's Office district commander, Hunter Markusen, a Mountain Trail Middle School student has heard numerous horror stories about what some children are exposed to when his parents have had to respond to calls for service.

After hearing the Ben Hunter song "With my own two hands," Markusen's English class was inspired to "change the world with our own two hands."

Markusen chose to start a teddy bear and blanket collection for his project, to provide MCSO deputies with additional "tools" when they encounter children who need to feel safe and be comforted.

He said making sure a child will have a teddy bear and blanket to sleep with at night will allow those who donate these items to "go to bed knowing you made a difference in little child's life."
Instead of taking up space or becoming a dust collector, Markusen said donating these items, even if purchased new just to donate, will go to a good cause.

Markusen said, "Your donated blanket would allow the deputy … to wrap the blanket around a child during a call for service to keep them warm and the child then would hopefully have the understanding that a deputy is a safe and friendly person.

Hoping his project will encourage the community to donate teddy bears and blankets, "so the children in the bad houses feel better, warmer and safer," Markusen has made up donation boxes to help with the collection effort.

"I may not be able to change the world," said Markusen, "but I can change a child's life one teddy bear and/or blanket at a time with the help of the community that his stepdad and MCSO deputies protect and serve.

Donations may be dropped off at the MCSO district office located at 37622 N. Cave Creek Road, Cave Creek, during regular business hours.