BY LINDA BENTLEY | NOVEMBER 28, 2012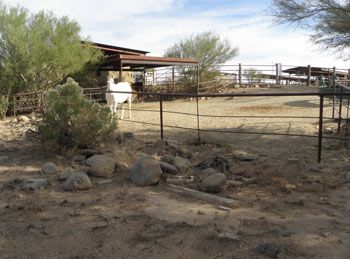 Brad Pyles claims the former owner of the neighboring property to his south on 51st Street has been dumping fill over the past several years into what used to be a wash, causing his property to flood and rendering portions unhealthy and unusable for his animals.
Photo by Linda Bentley

CAVE CREEK – Brad Pyles, who owns a ranch on 51st Street, has been documenting problems with flooding on his property for years and points the blame squarely on the former owner of the neighboring property whom he claims has been filling in what used to be a wash and natural drainage area between their properties.

Pyles has documented flooding in his horse corral, which he says produced mold and caused his mule to become ill with a respiratory infection.

He's documented all the phone calls he's made to various government agencies from the federal government to Maricopa County Environmental Services and Flood Control, which then directed him to the town of Cave Creek.

As recently as Tuesday afternoon, Town Marshal Adam Stein and Town Engineer Wayne Anderson, after visiting the property to address the complaint Pyles filed last week, indicated to Pyles the problem is out of their jurisdiction and would be a civil matter.

Considering washes are regulated by the federal government, Maricopa County Flood Control and town ordinances, Pyles is bewildered that the only solution he's been offered is to file a civil suit against his neighbor.

Pyles claims the solution is simple; just dig out the fill that's been dumped in the wash so water will drain properly rather than across his property.

He says he could do it himself but the problem is on his neighbor's property.

Pyles has been complaining to the town for years with calls dating back as far as calls to Jeff Lowe, former assistant town engineer, now long gone.

He can only wonder with all the laws, regulations and ordinances regulating washes at every level of government, why no one in any branch of government is willing to deal with a violation.

The town contends it is not obvious from looking at the aerial maps that there was ever a wash between the properties and without documentation of what the property looked like at the time Pyles purchased the property 13 years ago, there's nothing it can do.

When the property was in escrow, Pyles said Lori Labarr, the new owner of Diamond B Ranch, agreed to remedy the problem. However, the property has since closed escrow and he said the problem has not been corrected.

Sonoran News spoke to Labarr and Lowell Relkin at Diamond B Ranch on Tuesday afternoon and both claim the town has been out to inspect their property and determined there is no violation. They also said they do not speak to Pyles and whatever his issues may be are between him and the town.