BY LINDA BENTLEY | NOVEMBER 28, 2012
'… focus throughout the change in counsel and self-representation discussion related to Mr. Wise's goal of securing a continuance'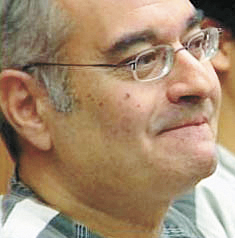 PHOENIX – Danny Wise (l), the former Scottsdale CPA accused of stealing clients' money that was supposed to be used to pay their taxes has secured yet another delay in trial.

Wise is facing numerous counts of fraudulent schemes and theft in Maricopa County Superior Court while charges are also pending against him in federal court for conducting a $70 million Ponzi scheme involving more than 120 victims in at least 13 states.

Arrested in 2009, Wise's trial was scheduled to begin on Nov. 15 after securing no less than a dozen continuances.

Shortly before the scheduled trial date, Attorney David Dow filed a motion to withdraw as Wise's counsel.

However, even though Maricopa County Superior Court Judge David Gass denied Dow's motion, on Nov. 14 Maricopa County Superior Court Judge Warren Granville addressed Wise's indigency status, appointment of advisory council and motion to change counsel.

Granville determined the court "cannot order private counsel to assist an indigent defendant as advisory council without that private counsel's acceptance" and granted Dow's motion to withdraw.

On Nov. 20, following a trial setting hearing, Gass issued a minute entry stating, "Over the past two weeks, the court has engaged in extensive discussion with Mr. Wise regarding Mr. Wise's objection to his then counsel and self-representation.

"The current change in counsel has been the result of defendant's own actions and the delays created with regard to Mr. Wise's change in counsel are his responsibility. Mr. Wise's focus throughout the change in counsel and self-representation discussion related to Mr. Wise's goal of securing a continuance."

Gass gave Wise until Feb. 11, 2013 to finalize his defense with his new counsel, while noting the trial was to begin on Oct. 9, 2012 and was continued to Nov. 5, 2012 to allow Wise and his counsel additional time.

While the new trial date of Feb. 11 gives Wise four months to prepare for trial, Gass made it clear "no further continuances will be considered."

Gass advised Wise that Attorney Diego Rodriguez, who is also assisting Wise in his federal case, would be the last attorney appointed to represent him and will be responsible for making decisions on tactics and strategy.

Gass went on to state, "Given the number of attorneys that Mr. Wise has engaged and discharged, particularly Mr. Dow on the eve of the trial, if Mr. Wise chooses not to have Mr. Rodriguez represent him at some point in the future, Mr. Wise will need to move forward with representing himself. The court has engaged Mr. Wise in lengthy discussions about acting as his own counsel in the future. Further, if Mr. Wise chooses to represent himself and refuses to work with Mr. Rodriguez as his advisory counsel, Mr. Wise will need to move forward without advisory counsel.

Noting Dow spent a great deal of time developing Wise's defense, investigating his defenses, requesting documents and conducting interviews with individuals, Gass stated, "In short, Mr. Dow had down what was necessary to provide Mr. Wise with a competent defense at trial and those efforts will inure to the benefit of new counsel."

He then ordered Dow to provide Rodriguez with the complete file relating to Wise no later than Nov. 30 so Rodriguez can proceed with Wise's defense.

The court made it clear to Wise and Rodriguez that the current delay will not reopen discovery in the matter.

Gass said he anticipates no need for further hearings before the trial management conference and expects the parties and their counsel to appear for the final trial management conference on Jan. 24, 2013 prepared for trial on Feb. 11.