BY LINDA BENTLEY | NOVEMBER 21, 2012
Unless the law is repealed or overturned, those winning seats in this election will serve a 3.5-year term instead of the normal two years
CAREFREE – So far, Carefree Council incumbents, with the exception of Arthur Gimson have all pulled packets seeking reelection to council.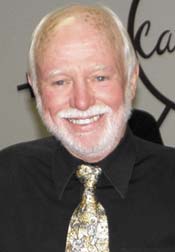 Former Councilman Bob Coady (l), who previously served from 1999 through 2011, has pulled a packet to challenge Mayor David Schwan.

Councilmen Glenn Miller, Mike Farrar, Marty Saltzman and John Crane, who was appointed to fill the balance of Jim Van Allen's term when Van Allen resigned in July for "health and other reasons," and Vice Mayor Melissa Price are seeking reelection to council.

Van Allen has pulled a packet to run again along with Bob Gearhart, Michael Krahe and Planning and Zoning Commissioner Les Peterson, who was recently appointed to fill the balance of John Crane's P&Z term.

Those seeking election have until Dec. 12 to submit between 39 and 70 valid signatures to appear on the March 12 primary ballot.

And, as in Cave Creek, unless the law is repealed or overturned, those winning seats in this election will serve a 3.5-year term instead of the normal two years to bring the town into compliance with the new consolidated election law, requiring elections to take place in the fall of even numbered years beginning in 2014.

Candidates who receive 50 percent plus 1 of the votes cast during the March election will be considered elected to office while candidates for any remaining openings will face a runoff election in May.