BY MARIELLE D. MARNE | NOVEMBER 21, 2012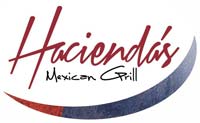 SCOTTSDALE - Juan and Irene Ortiz weren't actively looking to open a restaurant, but when the opportunity fell into their laps, they knew it was a sign. In its third month, there's no doubt Hacienda's Mexican Grill was meant to be.

It's a family affair, with an uncle, aunt, cousin in addition to Juan and Irene. Customers are greeted warmly and waiters are attentive. And because Hacienda's is new, the Ortiz family wants input! What did you like? Was there anything you'd change? "We take every comment as a chance to learn and grow," Irene explained. They've fine-tuned their "heat" to medium/mild since that tends to be what diners expect. It's obviously working, since there's already a following! That's one of the goals for the Ortizes. "We don't want people to only think of us for anniversaries or special celebrations. We're a family place, with affordable pricing, so come see us often and try different foods."

It's all authentic Mexican, stemming from a long line of family recipes. "Everything is fresh, nothing is from a can. The portions are generous. A lot of people take half home!"

Some of the favorites? Tachi's chimichangas, fajitas and Irene's Anaheim Green Chile Chicken enchiladas. "They have my name on them, they have to be delicious," Irene added. While Mexican cuisine is definitely Hacienda's specialty, there's entrees for all palates, including lobster ravioli and pizza! Plus, there's three bars (try a margarita, tequila or sangria!) lots of TVs for NFL Sundays, free Wi-Fi and patio dining. The place is gorgeous, the staff amiable and efficient, the food amazing.

Hacienda's Mexican Grill, 32527 N. Scottsdale Rd, is open daily, happy hour begins at 3 p.m. (Mon-Sat) and Sunday brunch is 10 a.m. – 2 p.m. Specials daily and see ad for coupon! Reservations recommended for parties of eight or more. Call 480-488-7439.