NOVEMBER 7, 2012
Presented by Sonoran Arts League, the 16th annual Hidden In The Hills is a free, self-guided tour throughout Cave Creek, Carefree and north Scottsdale the last two weekends in November: Friday – Sunday, Nov. 16-18 and Friday – Sunday, Nov. 23-25, from 10 a.m. to 5 p.m.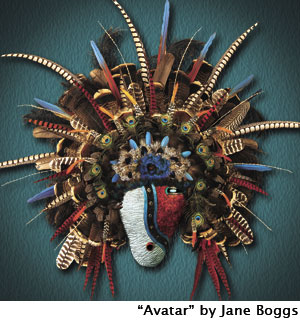 CAVE CREEK – Gourds are gourds are gourds ... unless they're in the hands of an extraordinary someone who transforms them into elaborate masks, sculpture people, wall hangings, vessels and whimsical objects d'art.

That extraordinary someone is Valley artist Jane Boggs.

Boggs, a member of Sonoran Arts League and a participating artist in November's Hidden in the Hills Studio Tour & Sale, began her love affair with gourds 15 years ago.

"Although I never had a formal art education, creating art was always part of my life," Boggs said. "I was in the process of taking oil painting lessons and then one day on an impulse I purchased 100 gourds. It was an immediate connection for me. Karma was coming down my path. I was so intrigued by the gourds, their sizes and shapes that haven't painted in oils since!"

Boggs began incorporating her fascination with Native American and African cultures plus her love of nature into elaborate gourd designs. "It a joy working with such an unusual, organic medium," she explained. "Creating gourd art has been not only the perfect challenge, but one the main focuses of my life."

Boggs was recently given the highest recognition by Sonoran Arts League in featuring her "Avatar" gourd mask on the 2012 HITH Directory cover. (The directory itself has been the recipient of design excellence awards.)

Cited from nearly 90 participating artists, Boggs' creation was the first time a three dimensional piece of art was selected in 15 years. "I'm excited and grateful for the vote of confidence from my fellow Sonoran Arts League artists," she said. "This is certainly an honor!"

"Avatar" is a mixed-media gourd mask and inspired by the movie of the same name. Boggs said it was several years in the making and left unfinished until this spring.

Boggs is among nearly 160 artists on the Hidden in the Hills Studio Tour & Sale. She's located at Studio 38 where the public can see a wide array of her creations and watch her plus other Sonoran Arts League artists at work.

Boggs explained that shape and coloration dictate the final form her gourds assume. "Each is one of a kind. Each has a story and a life of its own."

After cleaning a gourd to reveal its true colors, Boggs initiates her design process with pyro-engraved etching. Acrylic dyes, stains, inks and paints are then applied to complement the organic surface. Depending on the piece, Boggs finishes her work with feathers, leather, turquoise, copper, natural reeds and/or beads.

Always inventing new ways to embellish her creations, Boggs is currently sculpting faces in clay to give her gourds a more realistic look.

Art enthusiasts are encouraged to visit the Jane Boggs Studio/Gallery, #38 on the Tour, also features Ernie Apodaca (leather, wood, mixed media), Cynthia Downs-Apodaca (fine & constructed jewelry, metal), Sue Hunter (oil, pastel, watercolor), Bill Leibow (photography) and Ellen Leibow (oil).