BY LINDA BENTLEY | OCTOBER 31, 2012
Fast and Furious overshadowed by Benghazi allegations
'This president is lying to you about Benghazi in such spectacular fashion that I believe people will go to prison – this is impeachable …'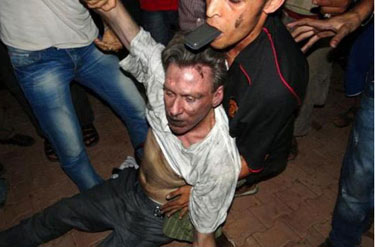 Ambassador Chris Steven was murdered in Lybia by Islamist terrorists that attacked the U.S. embassy in Benghazi with rocket launchers on Sept. 11, 2012 in what appeared to be a planned, coordinated attack.

Courtesy photo
NATIONALTURK.COM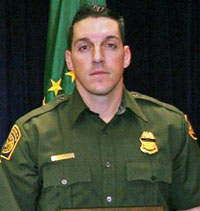 WASHINGTON – As an even larger cover-up seems to be unfolding with respect to the murder of four Americans, which included former Navy SEALs Glen Doherty and Tyrone Woods; Sean Smith, a U.S. Air force veteran and computer expert; along with U.S. Ambassador Chris Stevens in Benghazi, Lybia on Sept. 11, 2012, a joint staff report, titled "Fast and Furious: The Anatomy of a Failed Operation, Part II of III" prepared for Rep. Darrell Issa, R-Calif. and Sen. Chuck Grassley, R-Iowa, was released on Monday unveiling more troubling details about how Border Patrol Agent Brian Terry (r) was killed as a result of operation's reckless tactics.

The 104-page report begins its Prologue on Independence Day 2011 when Ken Melson, acting director of the Bureau of Alcohol, Tobacco, Firearms and Explosives (ATF), "walked into the halls of Congress to share his story."

Congress subpoenaed Melson for documents relating to Fast and Furious in March 2011, but despite Melson wanting to cooperate, senior officials in the DOJ responded to the subpoena and instructed Melson not to communicate with Congress or with his staff about Fast and Furious.
The report states when an intermediary contacted him, suggesting it was time for him to share his side of the story with congressional investigators, Melson replied, "I can't do that. They would slaughter me."

Continuing on, the report documents how Melson's handlers at the Justice Department became a blockade to the congressional inquiry.

Melson stated, "It was very frustrating to all of us, and it appears thoroughly to us that the department is really trying to figure out a way to push the information away from their political appointees at the department."

E-mail messages from Deputy Assistant Attorney General Jason Weinstein regarding the ATF operation in April 2010 indicated there would be embarrassing press about ATF.

Weinstein later testified that his greatest concern was if the Federal Firearms Licensees (FFL) were cooperating and monitoring sales as they occurred or if the sales happened and the FFL began cooperating after the fact, stating, "because the answer to that question would affect, at least potentially affect the analysis about whether they let guns go that they had the legal authority to have stopped."

In drawing a connection between a previous gunwalking program, Operation Wide Receiver and Fast and Furious, criminal division officials received detailed information about gunwalking.
And while many similarities existed between the two operations, officials in the Justice Department claimed no one made the connection while they also failed to recognize the same warning signs and mistakes in both operations.

Although Weinstein testified that "gun-walking is a pretty extraordinary thing and it's an extraordinarily bad tactic," the report states Weinstein was in a unique position to stop the operation because of the wiretap applications he authorized.

However, it also notes Weinstein has refused to accept any responsibility for Fast and Furious and has instead pointed the finger of blame at ATF's Phoenix Field Division and the U.S. Attorney's Office.

The Office of the Deputy Attorney General and Office of the Attorney General were responsible for supervising ATF. However, even though both offices continued to receive updates on the operation through the summer of 2010 neither intervened.

According to the report, with no ATF-specific experience or training, Ed Siskel in the Office of the Deputy Attorney General was in a position to oversee the operation.

He remained willfully ignorant of the operational details, maintaining his limited role precluded him from knowing the details of any given ATF investigation.

The report goes on to name names, Acting Deputy Attorney General Gary Grindler, who allowed Operation Fast and Furious to continue unabated; Deputy Chief of Staff to the Attorney General Monty Wilkinson, who read weekly memos containing details about Fast and Furious but did nothing with the information, and former U.S. Attorney Dennis Burke, who, after the weapons from Terry's murder were traced back to Fast and Furious, recommended against Attorney General Holder announcing Fast and Furious at the press conference.

The report claims there's "Amnesia at Justice Department Headquarters" and states, "No one at Justice Department headquarters has been able to provide answers to the Terry family. During their respective transcribed interviews, Wilkinson stated 38 times that he 'did not recall' or 'did not know.' In a similar fashion, Gary Grindler did so 29 times, and Ed Siskel 21 times. In two different transcribed interviews, Dennis Burke said he 'did not recall' or 'did not know' something 161 times."

Though Attorney General Eric Holder correctly labeled Operation Fast and Furious as "fundamentally flawed," the report indicates he has failed to acknowledge that the operation was not strictly a local aberration. In fact, Fast and Furious had many enablers among the senior levels of the Justice Department.

There is now some speculation the attack in Benghazi may also have involved an Obama administration gunrunning operation.

In an attempt to get answers, House Armed Services Committee Chairman Howard "Buck" McKeon, R-Calif., sent a very pointed letter to President Barack Obama on Oct. 29 requesting he explain his answer to Denver reporter Kyle Clark, who asked Obama during an Oct. 26 interview whether Americans in Benghazi were denied requests for help while the consulate was under attack.

Clark asked Obama, "Is it fair to tell Americans that what happened is under investigation and we'll all find out after the election?"

However, Obama dodged answering that question as well as a follow-up question about whether requests for help were denied and told Clark he gave three "very clear directives" after being initially informed of the attacks, stating, "Number one, make sure that we are securing our personnel and doing whatever we need to. Number two, we're going to investigate exactly what happened so that it doesn't happen again. Number three, find out who did this so we can bring them to justice."

In his letter, McKeon asked Obama to explain exactly how his first directive was put into action and stated, "As we are painfully aware, despite the fact that the military had resources in the area, the military did not deploy any assets to secure U.S. personnel in Benghazi during the hours the consulate and the annex were under attack."

He said, "I find it implausible that the Chairman of the Joint Chiefs of Staff, the Commander of U.S. Africa Command, and the Commander of U.S. European Command would have ignored a direct order from the Commander in Chief."

McKeon wanted to know to whom Obama issued his first directive and what method he used to communicate the directive to the military and other agencies, verbally or in writing.

He also asked, if at any time on Sept. 11, 2012, Obama specifically directed the military to move available assets into Libya to ensure the safety of U.S. personnel in Benghazi; if he provided authority for the military to take any and all necessary measures to secure U.S. personnel, including authority to enter Libyan airspace; and if he had any communication with the Secretary of Defense, the Chairman of the Joint Chiefs of Staff, or any Commanders of regional Combatant Commands regarding military support to U.S. personnel in Benghazi on Sept. 11.

Talk show host Glenn Beck stated on Monday, "This president is lying to you about Benghazi in such spectacular fashion that I believe people will go to prison – this is impeachable – the president might go to prison for this one. What is happening with Benghazi is so far beyond lying, it's staggering."

It appears Gen. Carter F. Ham, U.S. Africa Command, was relieved of his duties when he attempted to ignore orders to "stand down" and provide assistance during the attack in Benghazi.