BY MARIELLE D. MARNE | OCTOBER 3 , 2012
CAVE CREEK - If you think insurance coverage is one-size-fits-all, you're probably paying too much. "We do not sell generic policies," explained Leslie Jensen of Farm Bureau Financial Services. Visit her office (67 steps from the Dairy Queen) and she'll first get to know you. She'll take notes, make copies and sell you only insurance you need. "Every person is different, and you're not going to need what someone else needs." Jensen added, "I make insurance simple and can help you protect what matters most."

Farm Bureau covers the typical home, auto, farm, small business, life, but it also offers animal liability insurance for equines. Horse people take note! Protect your beloved steeds from fires, lightning, collisions, as well as shield yourself should your horse cause property damage or bodily injury to someone else. Because of Farm Bureau's competitive rates, the cost is nominal.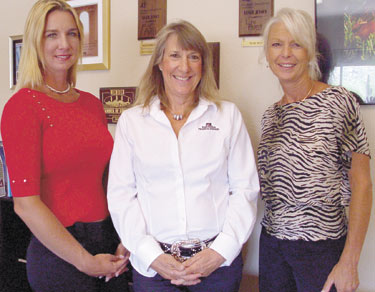 Though it's been around since the 1900s, Farm Bureau is ever evolving. Jensen is happy to share the company's story; she loves what she does and makes buying insurance fun! Yes, fun! Who else can offer a single deductable per occurrence/accident no matter how many covered possessions are involved? Who offers residential equipment breakdown coverage for $24 a year? No wonder Jensen is so passionate about insurance.

The enthusiasm spills over to her staff, Christine Powell, office manager, and Denise Good, sales associate. They are all horse people, friends, live in the area and get along great. Clients and the insurance-needing intrigued will immediately feel at ease walking into the office.
See for yourself. Stop by 6554 E. Cave Creek Rd. Call 480-575-0710 or visit www.agentlesliejensen.com for details.

Photo by Marielle D. Marne: (l-r) Denise Good, Leslie Jensen and Christine Powell