BY PETE MOHR | APRIL 6, 2011
Injured flinger belts a dinger!
Baseball teams can suffer devastating injuries. See "Arizona Diamondbacks and Brandon Webb." CSHS Head Baseball Coach Spencer Grace wasn't calling starting pitcher/outfielder junior Sean O'Grady's shoulder injury "devastating" – but it sure-as-heck could have been a blow to the Falcons, who were expecting to lose O'Grady, as a pitcher, for the season. Fortunately, an MRI exam revealed no structural damage to O'Grady's right shoulder. He should be back on the mound within 2-3 weeks.
At Queen Creek (March 29) the Falcon defense and relief pitching both stumbled, allowing the Bulldogs to rally for three runs in the bottom of the 7th, leaving the rattled 'Birds on the wrong end of an 11-12 score. Two afternoons later at Falcon Field, O'Grady, DHing, belted a three-run opposite field homer as the Falcs jumped out to a 4-2 first inning lead over Saguaro, unbeaten at 16-0. They led, 6-3, at the end of three, only to have the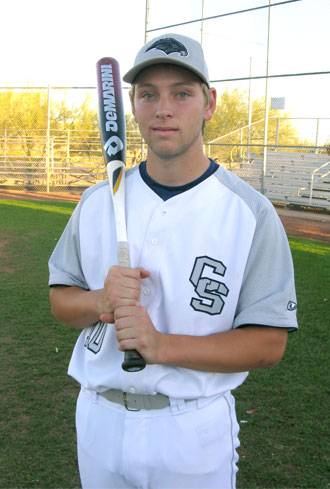 Sabercats put up five runs in the 4th and 2 in the 5th to move in front, 10-6. The Falcons got a run back in the 6th and one in the 7th to trail, 8-10. With two out, Charlie Dominick, who had walked, on third and Max Patterson on second, after his line drive double had hit the right centerfield fence on the fly, the Falcs had Connor Sabanosh batting, representing the potential winning run. On the third pitch, he laced a line drive deep into the left field corner. Foul ball! Sabanosh worked the count full off Saguaro ace Chris Freudenberg who'd come on in relief after Patterson's smash. But the baseball gods weren't with him in this at-bat. He lofted two foul balls into the parking areas before popping out to the catcher behind the plate, sending the jubilant Sabercats back to Scottsdale with their 17th win. No Falcon works harder than Connor Sabanosh. He's sure to have more than his share of big hits before this season ends. The Falcons need tough road wins at McClintock (April 5) and Apache Junction (April 7), before returning home for guaranteed "laughers" against "new" schools J.L. Combs (April 12) and Campo Verde (April 14). Then they'll host A.J. on IRS Day. All three games start at 7 p.m. Hang in there, Falcs! –Pete Mohr