MARCH 30, 2011
Easy Street Art Festival, April 1 – 3
A colorful artisans market transforms Easy Street in downtown into a vibrant street festival providing you with an eclectic mix of artists, calypso music, wine tasting and great food. The last hoorah of the season for outdoor festivals in Arizona, this event will be a great opportunity for one last getaway to immerse yourself in art and fun before the summer weather arrives.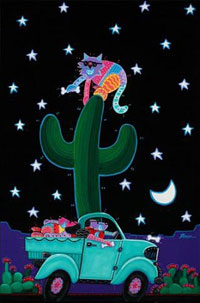 One of the festival's featured artists is Bob Bonn who is known for his colorful and sometimes humorous western art. Bob's art grabs your senses and immediately transports you into an imaginary world of brilliant, pure color. He was selected because his well-known works represent the colorful funky identity that this event brings forth.

Bonn, whose father Fred Bonn was an exhibitor at the Sawdust Art Festival, has been a familiar vibrant personality of the show. His acrylic paints exude his personality and humor. His works are full of characters of the Wild West, but perhaps one recurring element in his paintings are the grinning gatos (cats).

You'll enjoy Mark Phillips "America's Everyday Wine Guy" with his humorous approach to wine consumers as well as the many boutiques, galleries and outdoor café's that downtown Carefree offers.

For information call 623-734-6526 or visit vermillionpromotions.com.
MARCH 23, 2011
Scottsdale's 6th Annual Cycle the Arts event April 3
SCOTTSDALE – Hop on your bike and get an up close, personal look at Scottsdale's public art at the 6th Annual Cycle the Arts event Sunday, April 3. The free event starts and finishes at the Scottsdale Museum of Contemporary Art near the corner of Drinkwater Boulevard and Second Street.

This great family event features speakers at several pieces of artwork, including the new Soleri Bridge. Learn fun and interesting facts about each public art piece along the 3-mile family ride around downtown. There also will be a 10-mile route for cyclists.

Registration starts at 8:30 a.m. with riders departing at 9 a.m. in small groups. Designated ride leaders will be available. For your safety, helmets are required. For more information visit www.scottsdaleaz.gov/Topics/transportation.