MARCH 25, 2011
Hydrate and help find a cure
Bashas' gives portion of water sales to Type 1 Diabetes research
WHAT: As temperatures start to rise, Bashas' 64 supermarkets in Arizona will give residents another reason to stay hydrated. From April 1 through June 30, 2011, Bashas' will donate 10 cents from every case of Bashas' brand water sold to the Desert Southwest Chapter of the Juvenile Diabetes Research Foundation (JDRF). Monies raised during the three-month promotion will help fund research to find a cure for type 1 diabetes.

The mission of JDRF is to find a cure for diabetes and its complications through the support of research. The funds raised will directly benefit Type-1 diabetes research.

WHEN: April 1, 2011 -June 30, 2011
WHERE: Bashas' Locations Statewide
WHO: Open to public
PRODUCT: Bashas' brand bottled water cases
WEBSITE: http://www.jdrf.org/ and http://www.bashas.com/.
MARCH 21, 2011
World Down Syndrome Day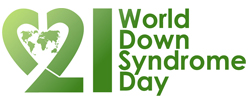 Please join DSNetwork in support of World Down Syndrome Day! To show your support, contribute a tax deductible donation of $21 or more by selecting this link.

March 21, 2011 marks the 6th anniversary of World Down Syndrome Day and each year the voice of people with Down syndrome, and those who live and work with them, grows louder. But there is still so much more we can do.

Down Syndrome International encourages our friends all over the World to choose your own themes, activities and events to help raise awareness of what Down syndrome is, what it means to have Down syndrome, and how people with Down syndrome play a vital role in our lives and communities.

The internet is a powerful tool for raising awareness and we encourage people to celebrate World Down Syndrome Day through your own websites, blogs and social networking sites. However, we want to create a single meeting place where everyone can share their experiences and advertise their activities.

So please send information to us at wdsd@downsyndrome-singapore.org and we will share this with the rest of the World at our dedicated website www.worlddownsyndromeday.org.

Join our cause to create a single global voice for advocating for the rights, inclusion and well being of people with Down Syndrome on March 21.