BY JIM BLACKBURN | MARCH 9, 2011
Just how steep is that trail?
A geometry primer applied to hiking
When you're winded hiking uphill, it's steep.
When you're slipping downhill, it's steep-steep.

When you're easing down sideways, it's steep-steep-steep.
When sliding down on your butt, it's steep-steep-steep-steep.
Steep. "Steep" … it's not too definitive, so I decided to make the graph shown below to visualize and quantify different grades. Keep Reading...
MARCH 9, 2011
Bee is the Buzz
Spellers needed for 1st Annual Desert Foothills Adult Spelling Bee
SCOTTSDALE ­ The first annual Desert Foothills community-wide spelling bee for adults from all walks of life - ages 17 to 97 - is 6:30 – 8:30 p.m. Wednesday, March 30, at the Cactus Shadows Fine Arts Center, 33606 N. 60th Street, Scottsdale, south of 60th Street and Carefree Highway. Keep Reading...
MARCH 9, 2011
Good News! Valley of the Sun YMCA offers teen court
PHOENIX – The Valley of the Sun YMCA through their Community Initiatives coordinates, Teen Court, a volunteer program that offers teens the opportunity to teach restorative justice to their peers. Teen defendants are assigned consequences by a "jury of their peers" for their minor offenses. After an admission of guilt, a teen defendant will be scheduled to appear before one of the 18 sessions held monthly. Each month, approximately 40 juvenile offenders and 110 teen volunteers participate and learn how the justice system works. Keep reading ...

MARCH 2, 2011
Got Stuff? Please donate to Pack 134's Scouting for Stuff Rummage Sale
Donations being accepted now – please call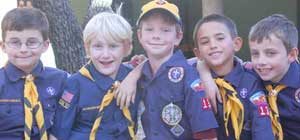 Sale Date: April 16 & 17
Sponsored by: Cave Creek American Legion #34
Sale Location: 6272 E Cave Creek Rd. next to El Encanto Mexican Café.
Call Korri at 480-247-9695 for pickup and tax deductible information. Cub Scouts Pack 134 is a non-profit organization.