MARCH 9, 2011
Arizona Game and Fish Department Outdoor Expo is March 26-27 in Phoenix
PHOENIX – The public is invited to experience the great outdoors at the Arizona Game and Fish Department Outdoor Expo on March 26-27 at the Ben Avery Shooting Facility on Carefree Highway in Phoenix, just 1/2 mile west of I-17. Keep reading ...
MARCH 9, 2011
Ari Hest at Rancho Mañana Golf Course Saturday, April 2
"Sunset Over Hope Street" marks prolific singer-songwriter's debut on Downtown Records' Mercer Street
The release of Sunset Over Hope Street on Downtown/Mercer Street Records, marks Ari Hest's first full-length album of new material in four years. Sunset Over Hope Street follows Hest's highly successful 2009 Twelve Mondays, an album one could say was "A&R'd" by his fans. Keep reading ...
MARCH 8, 2011
Tickets still available for Greasepaint's JungleBook
Only three public performances left! Friday, March 11 at 7 p.m., Saturday and Sunday, March 12 and 13 at 2 p.m.! Get your tickets now by clicking here!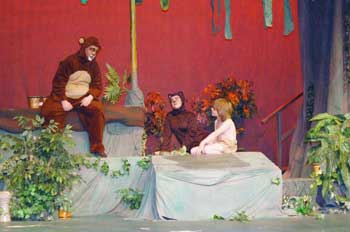 What audiences are saying ..."I can't begin to tell you how much we enjoyed today's performance. For what it's worth, I think what I appreciate the most is the quality of Greasepaint's production values: a great set, excellent score, terrific choreography, wonderful costumes ... and the fact that you treat the "kids" as professionals. You obviously expect a lot of them, and they respond." -David S.

Photo: Baloo (Tanner Smalley), Bagheera (Breagh Watson) and Mowgli (Viktor Ekeberg Schneider) in Greasepaint's production of Disney's The Jungle Book Kids!