BY PETE MOHR | MARCH 2, 2011
Casey Perrin, Max Gersh 1st Team All-Region
Head Coach Tyler Dummett leaving for private sector opportunity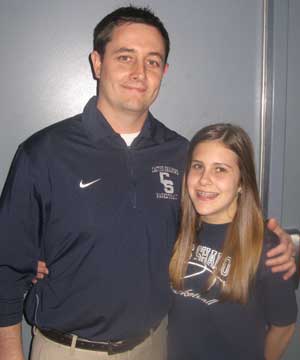 Resigning Head Basketball Coach Tyler Dummett with his "Girl Friday" assistant, 14-year old stepdaughter Carly Lambertus. Both will be missed in seasons ahead. Thanks for the great year, Coach and Carly!
CSHS – After freshmen (by Coach Anthony Smith), JVs (by Coach Keith Perrin) and Varsity (by Head Coach Tyler Dummett) had been individually introduced and recognized for their individual contributions to the 2010-2011 "turnaround" season (Varsity, 14-10 regular season record and first State Playoffs appearance since 2007), Coach Dummett stunned the Awards Banquet gathering by quietly announcing that he is leaving Cactus Shadows at the end of the current school year to accept a management position with Bergmann Precision (Phoenix). Dummet will head the company's Work Horse Products Division, which manufactures large-scale screen printing equipment.

"I've always been a fan and supporter of Cactus Shadows basketball," Coach Dummett stressed to his audience, "and, my new responsibilities allowing, I intend to stay involved with the school and the community. The opportunity offered me by Bergmann was simply one that I couldn't turn down in my own best interests and my family."

He continued, "When I accepted the head coaching position, I challenged these young men to be the 'charge'… to get Cactus Shadows Basketball back on track. I sincerely believe that they've done that. Tonight is my face-to-face opportunity to extend a final thank-you from me to you players – and to this great guy standing beside me, Assistant Head Coach Jamaal Scott. He's played a vital role in everything we've been able to accomplish since last summer. Thank you, Coach Scott."

In attendance, CSHS Principal Steve Bebee: "Coach Dummett did everything we asked of him – he more than exceeded my expectations. We wish him all the best in his new endeavors." Bebee volunteered that the search for a new head basketball coach would begin immediately, with the objective of making a hire by the end of April.

Varsity letters were awarded sophomores C.J. Davis, Austin Paciora and Mike Rabbani. Junior lettermen are Jack Bennett, Austin Horton, Eric Johnson, Paul Magtibay, Trevor O'Hearn, Hayden Sheridan, and Alec Stewart. And, of course, to seniors and Co-Captains Casey Perrin and Max Gersh (also named 1st Team All-Region), Bennett and Johnson, Honorable Mention.

To Coach Dummett, this traditional salute: "Wishing you smooth seas and following winds." He earned both.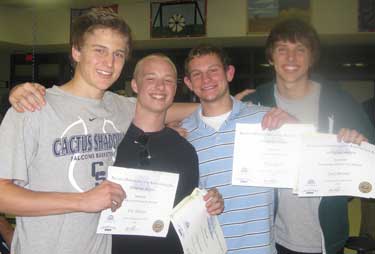 At Basketball's Feb. 28 Awards Banquet, Desert Sky All-Region 1st Team award winners seniors and Co-Captains Casey Perrin and Max Gersh (center, l and r) were flanked by juniors and Honorable Mention winners (l and r) Eric Johnson and Jack Bennett. Photos by Pete Mohr