BY PETE MOHR | MARCH 2, 2011
Send 'em down to Tucson …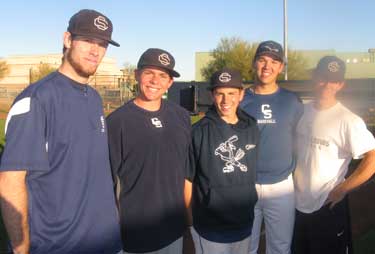 … and they got the job done. Well, Mel Tillis, almost. Falcons won their first three games, clobbering Coolidge, 25-8 (winning pitcher Scott Walter); blanking (Tucson) Catalina, 10-0 (winning pitcher Joey Ford) and edging (Tucson) Mountain View, 7-5 (winning pitcher, a complete game, Joey Wise) before those "other Falcons," Catalina Foothills, eliminated them in the semifinals, 16-9. Singled out by Head Coach Spencer Grace for their play in the "Cowboy Classic" were (l-r) pitcher Scott Walter, hitter Brent Nurre, infielder Charlie Dominick, Catcher Connor Sabanosh and pitcher Joey Ford. Sophomore pitcher Joey Wise was not available for photo. Falcons' scheduled home opener vs. Flagstaff, Tuesday, March 1, was postponed because of AIMS testing at Flagstaff. 'Birds journey to Raymond Kellis, Thursday, March 3, before returning home to host Sunrise Mountain, Tuesday, May 8,
4 p.m. first pitches.

Lady Falcons off to a winning start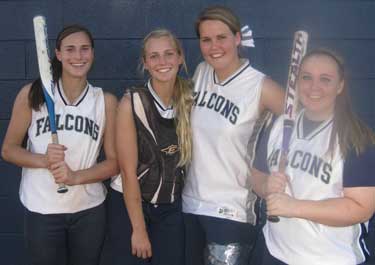 Lady Falcons finished a solid 4th in last weekend's (Tucson) Canyon del Oro Classic – and would've placed higher but for a last-of-the-7th, three-run homer by co-host (Tucson) Sahuaro. The LadyBirds came home and took out their frustration by routing Raymond Kellis, 7-1. (Pictured) home run hitters Gracie Goulder (l.) and Kristin Hillier (r.) flank winning battery, catcher Taylor Decker and route-going starter Camille McIver, who tossed a four-hitter, Monday afternoon, Feb. 28. On Tuesday, March 1, the LadyBirds were scheduled to host Flagstaff, before entering Thursday-Saturday's Sunblast Tournament at Boulder Creek. On Tuesday, March 8, the Ladies travel to always-tough Sunrise Mountain. Next home game: Thursday, March 10, against "new school" Shadow Ridge.