MARCH 8, 2011
Tickets still available for Greasepaint's JungleBook
Only three public performances left! Friday, March 11 at 7 p.m., Saturday and Sunday, March 12 and 13 at 2 p.m.! Get your tickets now by clicking here!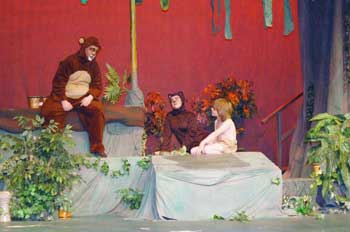 What audiences are saying ..."I can't begin to tell you how much we enjoyed today's performance. For what it's worth, I think what I appreciate the most is the quality of Greasepaint's production values: a great set, excellent score, terrific choreography, wonderful costumes ... and the fact that you treat the "kids" as professionals. You obviously expect a lot of them, and they respond." -David S.

Photo: Baloo (Tanner Smalley), Bagheera (Breagh Watson) and Mowgli (Viktor Ekeberg Schneider) in Greasepaint's production of Disney's The Jungle Book Kids!
MARIELLE D. MARNE | MARCH 2, 2011
Two successful and scrumptious years for Marzano's Ristorante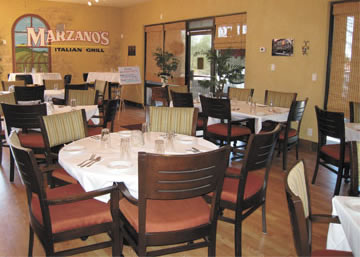 CAVE CREEK – March marks two years for Marzano's Ristorante. Despite rave reviews from happy diners, local folks are still learning of this Italian eatery. Of course, as with any business, Marzano's has made a host of changes since 2009. "We've tweaked the menu, we do more catering, we have finer service and even put the staff in uniforms," Chef and general manager Dean Cacciaroni offered. "We've focused a greater attention on the details."

The changes are obviously working, as Cacciaroni said they had one newcomer happen in and he's been back three times since. "He just loved it."

The food remains a top reason for repeat customers. "We are a complete scratch house," Cacciaroni explained. "Everything is fresh, fresh, fresh." Some of the most-ordered items include gnocchi di umbria (a lamb ragu), fresh wild Alaskan salmon, linguini and clams and any one of the tasty 12 inch, thin crust pizzas. Entrees come with complimentary fresh, baked-all-day focaccia bread. More often than not, patrons leave with take-home bags. The portions are that plentiful!

The bar has been expanded from solely beer and wine to a select number of mixed drinks being added. Think more the classics like a Manhattan, or a classic with a twist, espresso or lemon martinis.

Even as diners are still discovering Marzano's, those who have shared a meal proffer nothing but favorable comments. "We get five of five on a rating scale. We have good food, good prices, generous portions, and now, good service." That combination can't be beat!

To preview the menu, go to www.marzanosaz.com. Marzano's is located at 6554 E. Cave Creek Rd. Open for lunch (Tues-Sat, 11-2) and dinner (starting at 5) but closed Mondays. Dinner reservations are recommended on weekends by calling 480-488-2224.
FEBRUARY 28, 2011
Carefree Resort raises the bar for fine dining in Carefree with the new Lariat Restaurant and Lounge
On a rainy Saturday evening the stars shined brighter than ever at the Carefree Resort & Conference Center's new Lariat Restaurant and Lounge. For over forty years the Restaurant at the Carefree Inn has been the place to see and be seen by Carefree and Cave Creek visitors and residents alike. Now, as part of the resurgent resort's multi-million dollar renovation, the newly designed Lariat Restaurant and Lounge makes its debut in the valley's high-profile restaurant scene. Over 150 people attended the new restaurant's public opening last Saturday evening, enjoying the ambiance of the new room and signature items from the Lariat's new menu. Guests were greeted by a room crafted in warm hues of dark Walnut and copper. The Lariat Lounge now flows seamlessly into the resort's restaurant with easy access to the lobby.
Keep Reading...