BY LINDA BENTLEY | FEBRUARY 23, 2011
Pearce introduces immigration omnibus 'clean-up' bill
'This state … shall not accept a consular identification card that is issued by a foreign government as a valid form of identification …'

PHOENIX – On Monday, Senate President Russell Pearce, R-Mesa, introduced SB1611, an immigration omnibus bill, which he says is basically a "clean-up" bill to Proposition 200, passed by voters in 2004, and various subsequent voter-approved statutes requiring people to demonstrate they are legally present in order to obtain public benefits. Keep Reading ...
BY LINDA BENTLEY | FEBRUARY 23, 2011
Defendants ask judge to clarify ruling declaring Obamacare void
'… because everyone in this country would obviously benefit from certainty and final resolution of the case sooner rather than later'
PENSACOLA, Fla. – On Feb. 18, U.S. Department of Health and Human Services (HHS) defendants filed a motion in U.S. District Court for the Northern District of Florida for Senior U.S. District Judge Roger Vinson to clarify his Jan. 31 order, in which he held the individual mandate of the Patient Protection and Affordable Care Act (ACA) exceeded Congress' authority and because that provision was not severable from the remainder of the statute, "the entire Act must be declared void." Keep reading ...
BY LINDA BENTLEY | FEBRUARY 23, 2011
Water Ranch Open House draws hungry and curious
The wastewater treatment plant's state-of-the-art technology was open to tour during Tuesday's open house. See slide show ...
BY LINDA BENTLEY | FEBRUARY 23, 2011
Walmart construction going gangbusters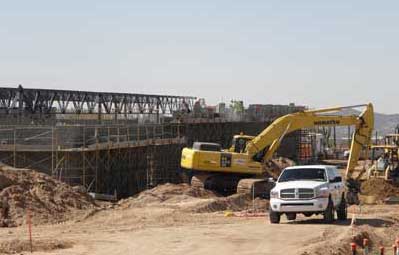 This view of the Walmart store under construction from 56th Street shows a hub of activity, with non-stop dirt movers working in concert with the block layers as the building and site continue to take shape.


FEBRUARY 23, 2011
ADF statement in response to DOJ letter on Defense of Marriage Act
Obama administration says it will no longer defend key component of DOMA
WASHINGTON — In response to a letter from the U.S. Department of Justice informing the speaker of the House that the DOJ and President Obama will no longer defend a key component of the federal Defense of Marriage Act, the Alliance Defense Fund is issuing the following statement from ADF Senior Legal Counsel Austin R. Nimocks: Keep reading ...