Dangerous desert dwellers
May 20, 2009

Loving life in the desert, for most residents, is innate. The majestic scenery and flood of everlasting sunshine make this corner of our state conducive to a variety of outdoor activities.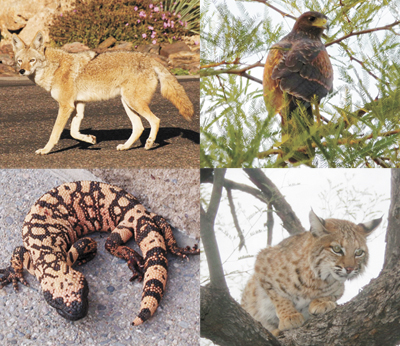 However, all this beauty is not without its dangers. Every environment has potential pitfalls and the desert is certainly no exception. We've moved into the neighborhood of a considerable number and variety of predators: rattlesnakes, hawks, owls, coyotes, javelina, mountain lions, and a bobcat or two.

With their food sources compromised they find themselves challenged in finding sources of food, so these desert dwellers watch from the outskirts of human habitation and follow us on our walks, methodically stalking our pets.

Local residents often insist on feeding the wildlife. Over time, this leads to the decrease of their fear of humans. Our homes and yards become sanctuaries for them, providing a continual source of food. What began with wild animals attacking and eating smaller dogs and cats has now escalated to an all-out pet alert. We have seen a seventy pound Labrador fall victim to a coyote attack. Owls and hawks can reportedly carry off dogs up to 30 pounds and certainly, no cat is safe from these raptors.

One of the most threatening and feared dangers in the desert is the rattlesnake. Bites are typically more frequent in spring and fall, but can occur throughout the entire year. Snakes attempt to avoid confrontation whenever possible, but if a dog should push its luck or become too curious, snake are never afraid to take care of business. The bites generally are not fatal if treated appropriately; however, the aftermath of the venom can cause significant discomfort.

The desert is also home to bufo (a poisonous toad), Gila monsters, black widows, tarantulas, cone-nose bugs and scorpions, each of which can pose a threat to our pet population.

Encounters with our local wildlife may be unavoidable; however, there are preventive measures pet owners should take to help keep their family members safe. Having your dogs snake-trained, not feeding indigenous predators and not leaving a pet unattended outside are a few measures that should be taken.

To read more about desert dangers and to see pictures of pet bites and attacks visit www.ahsvet.com and push the "Bite Club" button.

This article is courtesy of Animal Health Services, 37555 N. Cave Creek Rd., 480-488-6181.
Celebrating a birthday once every seven years

May 20, 2009

POSH PAwTISSERIE™ is on a mission to make your dog or cat's birthday extra special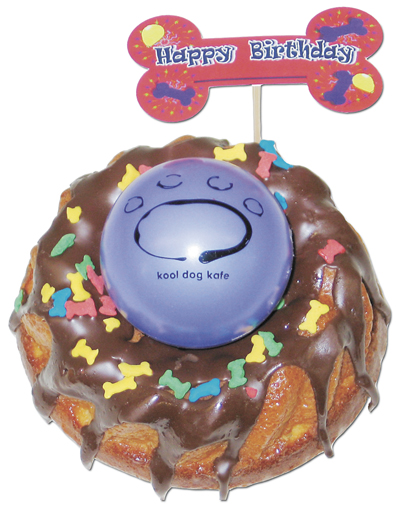 SCOTTSDALE – Envision a happy place offering 30 flavors of cakes beautifully decorated, catered parties, gift registry, photographer, full service themed party planning from sending the invitations to thank you notes, outdoor seating, an entire concept boutique dedicated to celebrating birthdays and welcoming new puppies or kittens… ah, yes, this one is for your pets!

"Last year when my German Shepherd was 14 and a half, we wanted to have a really special early 15th celebration for him. I wasn't impressed with my choices, plus he had some health and dietary issues," said Joan Gilmour, creator of POSH PAwTISSERIE™. "I wanted fresh, healthy beautiful cakes, lots of choices, as well as everything else I needed for a party, all in one place. Everyone used to love going to the Biltmore doggie bakery but that's closed."

So, how about 30 choices ranging from Black Forest, Banana Split, Cookies n Cream, to Sweet Potato or Honey Oatmeal cake for those with special dietary needs. Or course you'll also find standard vanilla, carob and peanut butter, and all cakes can be made wheat free upon request. And choose from pupcakes or four cake sizes including one called "Now That's A Cake," an eight inch tall creation in the shape of a giant cupcake! Of course all are made with organic ingredients and without sugar or preservatives. "And for the kitties, we offer a salmon shaped cake encrusted with organic catnip," says Joan Gilmour, who also has six cats who celebrate birthdays.

And for welcoming new puppies and kittens, you might want to consider a PupKakes™ available in two or three tier designs with piddle pads, a toy, grooming products, training treats and whatever else you want. "We can customize the PupKakes™ for teacup or large breed and make it really special and being non perishable, we can ship to your destination," says Joan Gilmour.

POSH PAwTISSERIE™ is located at POSH Pet Boutique and SPAw's new larger location at the S.E. corner of Pima at Pinnacle Peak in the Desert Village Shopping Center. Call 480-473-8585 for more information.