Veterinary Orthopedic Manipulation
February 18, 2009

Emerging field in veterinary medicine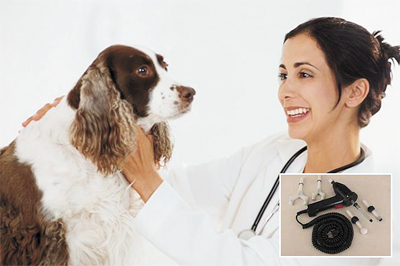 Many of the problems veterinarians treat are vague and hard to define because our pets can't tell us what is going on. An emerging field in veterinary medicine is a version of chiropractic manipulation for animals known as veterinary orthopedic manipulation (VOM).

Unlike the typical human chiropractic adjustment, which requires awkward positions and quick forceful movements, VOM uses non-invasive, even enjoyable treatments for your pets. Not only are the treatments extremely effective, but because of the differences in the nervous system of humans vs. animals, we are able to use the treatment for diagnostic purposes.

This technology is not new to the veterinary field, but because of its "alternative medicine" label, it has been slow to gain the recognition it deserves. As with chiropractic medicine in humans, it takes time to win over the skeptics of the world. VOM was actually formulated by Dr. Bill Inman in the 1980s and was submitted to the American Holistic Veterinary Medicine Association in 1996.

The basic principle in all forms of chiropractic medicine is to "re-program" the body to establish normalcy. When traumatized, our body responds with muscle tension, which in turn causes nerves to become "pinched." This treatment "re-programs" the nerves to allow the muscles to relax and re-establish normal blood and lymphatic flow so natural healing is stimulated. A side benefit of this kind of treatment is that it does not require drugs or medications to accomplish the task. In some instances, however, drugs make great supplements to treatment and may actually speed recovery.

VOM may, in some situations, actually pinpoint problems long before clinical signs become obvious. It has been found to be approximately 60% more accurate at finding muscle tension over standard palpation and can find certain kinds of problems up to 10 months before radiographic changes are apparent.

When will your dog or cat benefit from VOM treatment? We must remember dogs and cats are very stoic when it comes to pain because of their strong survival instincts. The most common reasons for seeking veterinary treatment for our animals include changes in behavior; eating, drinking, urination, defecation, activity, or sleep habits. We have treated many dogs with non-specific problems and have either found situations we confirmed radiographically or saw a marked improvement in how the dog felt and behaved after treatment.

VOM does not replace conventional medicine. It provides us with additional information to enhance our current medical and diagnostic tools. If you are interested in learning more, please contact us at Animal Health Services at (480) 488-6181.

This article is courtesy of Animal Health Services, 37555 N. Cave Creek Rd., 480-488-6181.

Courtesy Photo:
Veterinary Orthopedic Manipulation (VOM) is a healing technology that locates and re-establishes neuronal communication and thus induces healing.