For Goodness Sake now open
April 15, 2009

Animal Charity Thriftique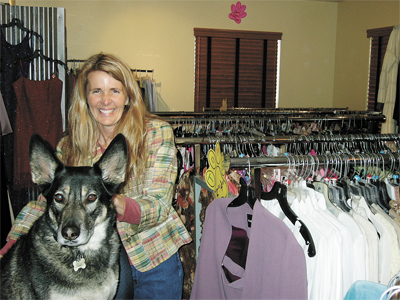 Seven weeks after seeing the hardships a local animal rescue group faced in turning their donated items into needed cash, For Goodness Sake had been formed and had generated over $1700 for this rescue group. They have since met with other area animal rescues to do fundraising and four weeks ago they opened a small store in Cave Creek. The thriftique (a boutique atmosphere with thrifty prices) is mainly women's clothing, shoes and accessories. Efforts are underway to market other donated items including men's and children's clothing, furniture, kitchen items, home décor, tools, vehicles and more. The process to become a non-profit 501C3 is underway and receipts for donations can be given in the interim from one of their non-profit animal alliances.

Because they accept donations and buys in bulk from several local sources, For Goodness Sake is able to donate a high percentage to area animal rescues. Plans include setting up a mobile unit within 6 months to service outlying areas and smaller towns in central Arizona and booths at animal related events. Most items are priced between $1 –$15 with $1 sale racks outside on Saturdays (weather permitting).

Owners Paty and Chris Williams are residents of Cave Creek. Paty has been involved with animals and animal adoptions for over 10 years and currently has a pet sitting business named "Paws, Claws and Hooves." Chris has been a Chiropractor in Cave Creek for the last 8 years with an office two doors down from the store. Together with their long time friend, Chris Jameson, they formed For Goodness Sake. In addition to raising money for animal charity and rescue organizations, they help relay adoption information and educate the public about animals, adoptions and spay and neuter programs.

For Goodness Sake,
Animal Charity Thriftique
7005 E. Cave Creek Rd. #101, Cave Creek
Store hours:
Thurs.-Sat. 10 a.m.–3 p.m.
Phone: 480-440-5803
Web site: www.ForGoodnessSake-az.com
Make your dog's joints young again

By Dr. Brian Ashmore | April 15, 2009
Have you ever heard your dog groan when rising from a nap or lie down with a thud? How about having to pull your pooch home after a walk because he just wouldn't move any more? If the answer is yes then you probably have a dog suffering from arthritis. If you didn't know, there are many ways we can help your best friend feel young again!

Today I am going to talk about an exciting, state of the art treatment that uses your dog's own 'Stem Cells.' These stem cells occur naturally in your dog's body. They are mostly found in fat reserves which make collection very easy.

The process is certainly specialized but is fairly non-traumatic for your pet. Fat is collected and sent overnight to a lab in California where the stem cells are extracted and readied for shipment the following day back to our clinic. Then these cells are placed into all of the affected joints and sometimes given intravenously.

Once implanted these cells go to work to decrease inflammation and start regenerating tissue such as cartilage. Relief from arthritis is just around the corner with this new and exciting treatment.

I would love to talk to you about how 'Stem Cells' can help your dog's arthritis so feel free to contact me, at Animal Health Services by e-mail: brian@ ahsvet.com or phone
480-488-6181.

Look for our ad or visit www.ahsvet.com on Animal Health Services "Pet's Got Talent" Contest & Pet Fair on Saturday, May 2 from 10 a.m. – 3 p.m. at the Sundial Amphitheatre in Carefree. We are still taking participation applications.