March 16, 2016
Local spellers sought for FCF 6th Annual Desert Foothills Community Spelling Bee
April 6th Spelling Bee raises funds for Teacher Vision Grants and Scholarships
SCOTTSDALE – The 6th Annual Desert Foothills Community Spelling Bee takes place on Wed., April 6 and the non-profit Foothills Community Foundation (FCF) is seeking teams of participants to compete in this year's event. Teams can consist of students in seventh grade and higher, as well as adults.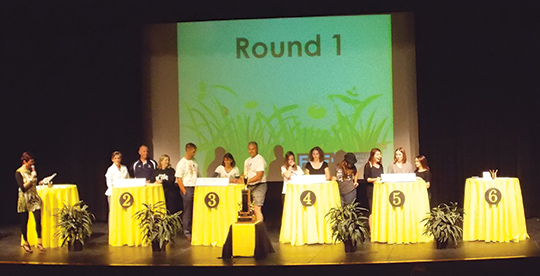 2015 FCF Spelling Bee - Round 1 on Stage - photo credit Elaine Adrian

The cost to participate is $100 per person or $300 per team of three, and proceeds benefit FCF's Partners in Education (PIE) program, which raises funds to support local students and teachers through its Teacher Vision Grants and Save One Student Scholarships (SOS) programs. The deadline to enter is Wednesday, March 30.

Chris Winger, FCF president and CEO, said the spelling bee is open to the entire community. Teams from businesses, associations, churches and schools are welcome to come together for a fun evening to support local education.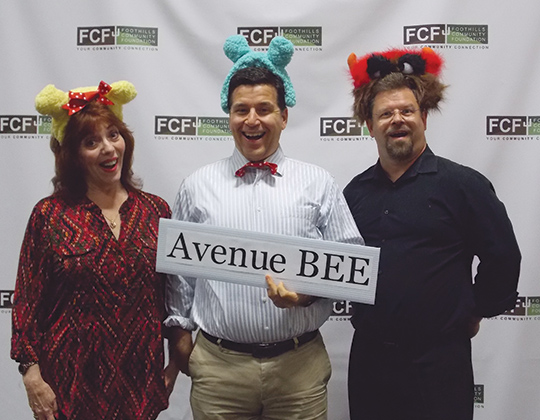 Avenue BEE - 2015 winners Petey Swartz, Scot Claus and Frank Emnett - photo credit Elaine Adrian

"It's very rewarding to see our community come together to support our PIE programs," Winger said. "It's a fun, lively competition and a great way to help our local students. Participate on a team or support your team by attending and cheering them on."

This year's spelling bee features preliminary qualifying rounds that lead to a championship round and the crowning of the winning Bee team. In addition to bragging rights, the Bee grand champion team will win a prize package and have their names inscribed on the Paul "Buzz" Schilling trophy. The competition will feature six rounds of up to eight teams and an award will also be given to the team with the best costume.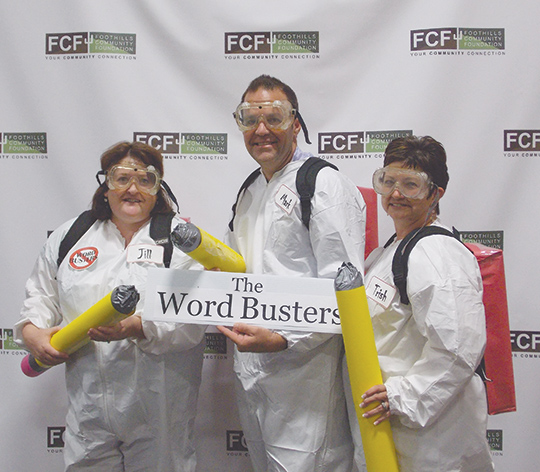 The Word Busters - Desert Willow Elementary PTO - Jill Machin, Mark Culbertson and Trish Verde - photo credit Elaine Adrian

The lively competition begins at 4:30 p.m. for participants and opens to the public at 6 p.m. on Wed., April 6 at Cactus Shadows Fine Arts Center, 33606 N. 60th Street, in Scottsdale. The public is welcome to use their smart phones to participate in speed spelling contests during the preliminary rounds. Audience members will receive a word to spell and the first person to spell it correctly and submit it to the special QR code wins a prize.

To download a team registration or sponsor form, visit www.azfcf.org and click on Partners in Education, or call 480-488-1090.