MARCH 9, 2016
DEA arrests 7 in Sierra Vista drug trafficking ring
Young load drivers recruited at Sierra Vista Skate Park 
TUCSON, AZ – DEA has announced the arrest of seven members of the Erick Erives drug trafficking organization (DTO), as a result of a 28-count indictment acquired through the Arizona Attorney General's Office, citing multiple drug charges, allegations of money laundering and fraud. Erick Erives, the cell head of the DTO employed multiple drug load coordinators, drivers and multiple stash houses based in Tucson, Sierra Vista, Bisbee, Huachuca City and Naco, Arizona. Erick Erives is also the son of current DEA fugitive Ignacio Alfredo Erives-Martinez.

"Drug traffickers cannot conceal their illegal activity in our small towns in an effort to evade law enforcement," said Special Agent in Charge Doug Coleman. "The DEA will find you, investigate your activity and ensure you face justice for your drug crimes in our communities."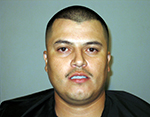 Erick Erives

The investigation into the Erives DTO began in September 2014, and resulted in the seizure of nearly 1,600 lbs. marijuana, approximately ½ kilogram of heroin, and other drugs including "Molly" (MDMA) and mushrooms. Several of the load drivers and coordinators formed their acquaintance while attending high school in Sierra Vista and were recruited into drug trafficking during social encounters at a skate park near Veteran's Memorial Park.

"HSI will continue working with our local, state and federal partners to ensure that those who're allegedly engaged in smuggling large quantities of contraband into the United States are brought to justice," said Matthew C. Allen, Special Agent in Charge of HSI Phoenix. "These arrests and seizures demonstrate what can be accomplished when law enforcement agencies pool their resources, intelligence an expertise to attack and dismantle criminal organizations involved in illicit activities that pose a significant public safety threat."

Those arrested include:
Erick A. Erives, 29, Tucson
Sorina N. Morales, 28, Tucson
Patrick J. Bramwell, 20, Sierra Vista
Cody D. Avery, 22, Sierra Visa
Mercedes V. Anello, 21, Huachuca City
Francisco Chavez-Bustamonte, 26, Sierra Vista
Lorenzo Cordova-Bustamante, 54, Sierra Vista

The two-day enforcement operation included personnel from the DEA's Sierra Vista Resident Office, Homeland Security Investigations-Douglas, the United States Border Patrol, the Cochise County Sheriff's Office and the Pima County Sheriff's Office. The Arizona Attorney General's Office will pursue the prosecution.