By Linda Bentley | NOVEMBER

11, 2015
Cave Creek seeks to fix inequities of consolidated court agreement
Town eyeing possible purchase of Harmony Hollow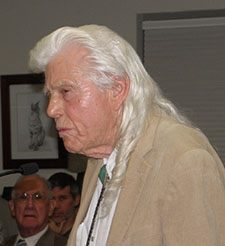 CAVE CREEK – Call to the Public brought Lester Rechlin to the podium on Monday night to say council was making a mistake by selectively enforcing the town's zoning code.

He referred to an editorial in Sonoran News about Tom Lehman, whose property was the subject of his comments and claimed the town was allowing Lehman to blade the desert in violation of the zoning code without a permit.

Rechlin said when he served on council the League of Cities and Towns instructed them there were only five things they were required to do:

1. Collect money,
2. Spend money,
3. Save money,
4. Provide a justice system, and
5. Safe roads.

He indicated the town was derelict in his duties by its failure to have the roads striped.

Mayor Vincent Francia told Rechlin, before leaving the meeting, to provide Town Clerk Carrie Dyrek with the address of the Lehman property.

Rechlin said he didn't know the address and said the mayor should know the address and know what's going on in the town.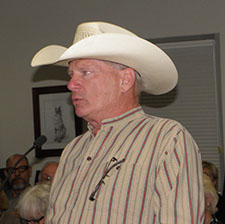 Larry Wendt, owner of the Buffalo Chip Saloon, also spoke to introduce five new employees, including Marvin "Big Marv" Dickson, who cooked steaks at Pinnacle Peak Patio for 50 years.

Wendt said these people are with him now because the businesses they worked for closed and their city council wasn't as receptive as Cave Creek is to its businesses.

He said 121 people are currently employed at the Buffalo Chip.

Town Manager Peter Jankowski updated council on relocating the horse monument. He said the new location in the median just south of Walmart was staked so it can be "Blue Staked" for utilities and the monument should be moved sometime next week.

Jankowski said the position for town engineer was narrowed down to two finalists and he was going to make one an offer the following day.

He also said the town was looking into getting an appraisal for the Harmony Hollow property, a 30-acre parcel that abuts Spur Cross Conservation Area (SCCA), to bring to council.

Jankowski said the road striping would follow the bike lane project since that project includes slurry sealing the road.

Councilman Mark Lipsky said there were areas on Cave Creek Road that are not part of the bike lane project that could be striped now.

Lipsky said it is easy to spot since it is a section completely devoid of any striping.

Jankowski said if it wasn't part of the bike lane project, he would get it done right away.

Vice Mayor Steve LaMar said he and Councilman Dick Esser were supposed to be involved in reworking the median banner program agreement between the town and the Cave Creek Merchants and Events Association but were excluded from the meeting.

He asked Jankowski for a copy of any draft agreement that was put together.

Francia introduced Maricopa County Supervisor Andy Kunasek, whom he said has represented Cave Creek well during all his years as a county supervisor.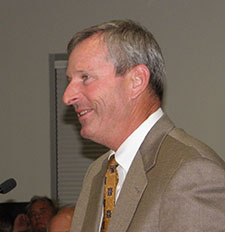 Kunasek announced the county would be holding the Pickly Pedal inaugural race on the Maricopa Trail on Saturday, Jan. 23.

The approximately 50-mile race covers intermediate and difficult terrain and is expected to take about four-and-a-half hours to complete.

The race will be begin at Lake Pleasant with the finish line in the town core in front of the Flat Tire Bike Shop.

He said there will also be seven-mile fun ride from SCCA to the town core.

Kunasek said it has taken the county about 15 years to put the trail system together at very little cost and he couldn't think of a better finish line than in the town of Cave Creek.

He said the county was very proud of the trail system and it wouldn't have happened without Cave Creek and various community members such as Terry Smith.

For more information about the race, visit www.pricklypedal.com.

Trails Coordinator Bambi Muller provided council with the status of two recently completed trails.

She said the Gateway Trail was completed with the help of over 60 volunteers, whom she thanked, and now provides a connection to the Phoenix Mountain Preserve, Cave Creek Regional Park and SCCA.

Muller said the Connector Trail, a small but very important trail, was completed after the town awarded the bid to Okanogan Trail Construction Inc., which donated its time and equipment to help complete the Gateway Trail, and now connects trails to the north, south, east and west.

She said now that the trails have both been completed they are in use daily.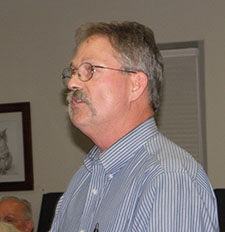 Bill Mattingly of the Water Advisory Committee did a presentation of the committee's "Drought Mitigation and System Reliability" report for the town's potable water system.

Mattingly said some of the ideas would require legislation changes but he they took a "belts and suspenders" approach to system reliability measures, suggesting the town possibly enter into an intergovernmental agreement (IGA) with Phoenix and/or Scottsdale to hook into their water systems as backup.

Esser commented "You can't drink paper water" and it has been his experience when you enter into IGAs with the "big boys" you lose.

Jankowski presented his findings after performing an analysis of the court consolidation cost sharing agreement.

He said it has taken a long time because Carefree was not very forthcoming with the financials.

While pointing out he has no problem with the operational side of the consolidated court and said it was being run efficiently, Jankowski found the cost sharing to be less than equitable and appears to be lopsided in Carefree's favor.

Jankowski noted the agreement required Cave Creek to not only pay for all the maintenance, operations and utilities of the court, but pay for the remainder of Carefree's lease on its vacated court at $31,992 per year for two years.

He said Carefree claims Cave Creek, which paid over $100,000 more than Carefree, makes up about 39 percent of the cases but they are more expensive to prosecute.
According to Jankowski, their own figures indicate the cost for the prosecutor was only $9,730 more than Carefree.

Jankowski said the IGA was supposed to be a cost sharing agreement but appeared that Cave Creek was subsidizing a good portion of Carefree's costs.

Councilwoman Susan Clancy questioned whether the town could legally enter into such a long term (10 years) agreement.

Town Attorney Bill Sims said they could but could also get out of the agreement by not appropriating funds.

Francia stated he was surprised at some of the conditions in the agreement and said he didn't remember if he voted for it or not.

LaMar suggested having a subcommittee meet with Carefree to discuss the agreement.

Sims said if they appointed a subcommittee they would have to meet in a public meeting to avoid violating the open meeting law.

Councilman Ernie Bunch, who was the only member of council to vote against the court consolidation agreement when it was approved, suggested having just two members of council meet in private rather than negotiating in public.

Francia said, if council had no objections, he and the vice mayor would meet with the people from Carefree.LaMar thanked Jankowski for looking into the matter and getting to the bottom of it.

He said, "We need to make it fair."

During public comment, Eileen Wright, who is married to Carefree Town Attorney Michael Wright, read from a document stating there was a lot of information and misinformation being presented.

She said the IGA was designed and negotiated as a cost sharing agreement and that was exactly what it was doing.

Wright said the most important thing was that the court was now operating efficiently and legally.

LaMar said he found it interesting that a Cave Creek resident would be arguing in favor of a disparity that favored Carefree.

With Councilman Thomas McGuire absent, council voted unanimously in favor of recommending approval for a beer and wine liquor license for Rancho Mañana Golf Club.

The mayor reminded everyone Wild West Days was coming up this weekend.