By Linda Bentley | october

21, 2015
CAVE CREEK – Even though Town Manger Peter Jankowski and Town Marshal Adam Stein were unable to attend Monday night's council meeting Mayor Vincent Francia wanted to make a point of complimenting them and the entire staff for the Taste of Cave Creek event and said, "Well done."

During Call to the Public, Reg Monachino spoke about the recent consolidated court audit and said the resulting "no exceptions" was the equivalent of an A+ grade.
By Linda Bentley | october

21, 2015
After nine years of decline, Arizona public school district classroom spending remained at 53.8 for the second year in a row
PHOENIX – On Oct. 7 the Republican Party of Maricopa County (MCGOP) Executive Guidance Council voted unanimously in opposition to all 28 countywide school district bond and override initiatives.

MCGOP Chairman Tyler Bowyer stated, "Public school systems in Maricopa County and across the state must live within their means, just as the hard working Arizonans that comprise their respective tax bases have had to do."
By Linda Bentley | october

21, 2015

CAVE CREEK – On Saturday, Oct. 17, approximately 60 volunteers came out to participate in the building of the Cave Creek Gateway Trail.

Matt Woodson and his crew from the Okanogan Trail Construction Company volunteered their time and equipment to perform the majority of heavy trail work defining where the trail went.
This allowed volunteers from Desert Foothills Mountain Bike Association, Cactus Shadows High School Mountain Bike Team, Cave Creek Later Day Saints Church, REI, Councilman Thomas McGuire and other members of the community to work on clearing and cleaning the trail.
By Linda Bentley | october

21, 2015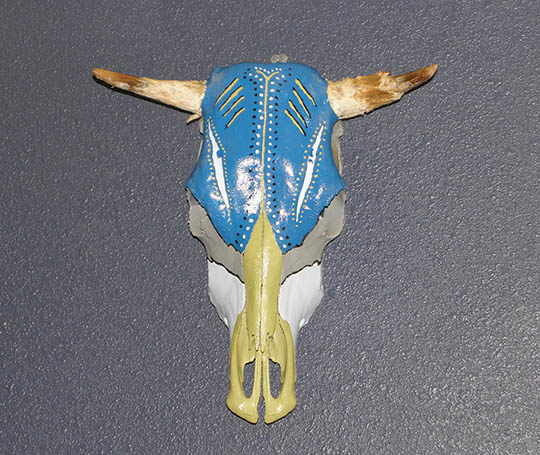 Vice Mayor Steve LaMar (r), presented the town of Cave Creek with one of his hand-painted skulls to display in the recently remodeled finance department. Staff members receiving the art piece, from left, were Building Official Mike Baxley, Utilities Billing Specialist Jan Schumacher, Building Safety Inspector Randy Richards and Assistant Finance Director Jane Fuller. LaMar said he's been painting skulls for about two years and is working on an idea to enhance his art pieces.

By Linda Bentley | october

21, 2015
Taking the sting out of summer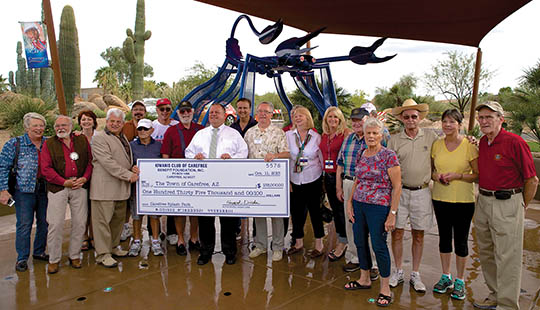 Photo by Toby Payne

Sunday afternoon marked the official dedication of Kiwanis Splash Park, Carefree's newest town center attraction aimed at taking the sting out of summer. The splash pad's scorpion feature is named Kiwani to recognize Kiwanis Club of Carefree, which voted unanimously to fund the entire $135,000 cost of the splash pad project.
october

21, 2015
Court protects First Amendment rights from unconstitutional political committee laws
PHOENIX – Four years after it began, a case brought by the Institute for Justice (IJ) that imposed critical limits on government power to regulate political speech has come to an end. On October 6, the U.S. Court of Appeals for the Ninth Circuit dismissed, by agreement of the parties, an appeal in Galassini v. Town of Fountain Hills. In this case, the U.S. District Court for the District of Arizona ruled a key component of Arizona's campaign finance law unconstitutional. Instead of continuing to defend an indefensible law on appeal, the State of Arizona amended it and stopped enforcement of it. The dismissal means that hundreds of people and groups who spoke in the 2014 elections (or elections prior) are protected from potential litigation.
october

21, 2015 Nogales CBP Officers seize $530K in marijuana



U.S. Customs and Border Protection officers at the Mariposa Commercial Facility seized $530,000 in marijuana – 1,060 pounds – from a Mexican national Thursday when he attempted to enter the United States through the Port of Nogales.

Officers discovered nearly 1,600 packages of marijuana within the wall rails of a tractor-trailer driven by Raul Alan Romero-Garcia, 24, from Sonora, Mexico, following an alert by a CBP narcotics-detection canine.