September 16, 2015
Miss Arizona to compete for National American Miss American title at Disneyland Thanksgiving week
SCOTTSDALE – Miss Zoephia Peyton Decker-Knealing, daughter of Dr. Shannon Decker and Mr. Terry Knealing, has earned the prestigious title of the 2015 National American Miss Arizona at the state pageant held July 2015. She will be attending the National Pageant to be held in Anaheim, California at Disneyland during Thanksgiving week, representing the great state of Arizona, where she will have the opportunity to win her share of over $500,000 in cash and prizes!

The National American Miss Pageants are dedicated to celebrating America's greatness and encouraging its future leaders. Each year, the National American Miss Pageants award 1.5 million dollars in cash, scholarship and prizes to recognize and assist the development of young women nationwide. National American Miss has added the ultimate door prize to Nationals 2015. Each girl that qualifies for the national pageant has a chance to win a new 2015 Ford Mustang Convertible. For more details visit www.namiss.com/car. National American Miss is dedicated to developing the success of young women across our nation with a program that is designed to be age-appropriate and family oriented. Pageants are held in each state for girls ages four to eighteen in five different age divisions.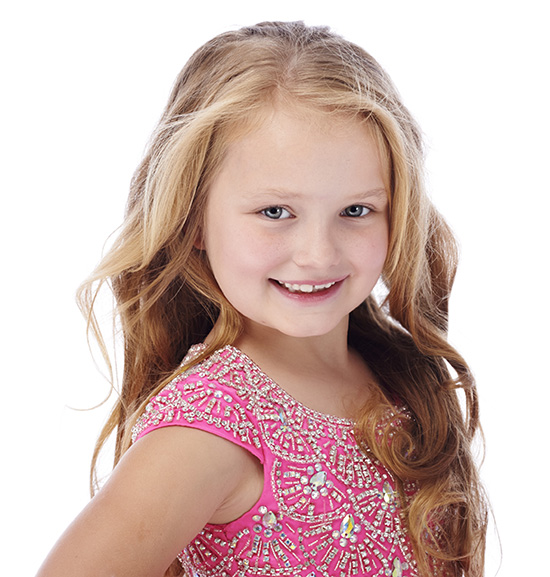 The National American Miss Pageants are for "Today's Girl" and "Tomorrow's Leaders." The pageant program is based on inner beauty, as well as poise, presentation and offers an "All American Spirt" of fun for family and friends. Emphasis is placed on the importance of gaining self-confidence, learning new skills, learning good attitudes about competition and setting and achieving personal goals. The pageant seeks to recognize the accomplishments of each girl while encouraging her to set goals for the future! Find out more about National American Miss at www.namiss.com.

Miss Decker-Knealing's activities include dance, ice skating, acting, gymnastics and playing the electric guitar. She is a year ahead in school and currently an A+ student in the 3rd grade at QI Montessori in Cave Creek. She is also represented as an actress and model with the Leighton Agency of Scottsdale. When not busy with school and activities, Zoephia enjoys doing community service projects. Decker-Knealing started her own non-profit foundation for the promotion of literacy in 2013, which she self-titled because her name means "bringer of light and wisdom". Zoephia Foundation supports existing organizations dedicated to promoting literacy and encourages youth to get involved by acting as peer readers and tutors in their community. Decker-Knealing is currently leading her own fundraising efforts for Pajama Program throughout the valley. October marks the "danger season" when donations for pajamas and books for kids in need are needed most. Over the last two years, she collected over 1000 new pajamas and new books for Arizona kids in need. Her donations went to organizations like UMOM New Day Center, Crisis Nurseries and the Sojourner Center. She also volunteers for the Read-to-Me program at UMOM, as a reading tutor at her school and for Feed My Starving Children. As part of her responsibilities as Miss Arizona, Decker-Knealing will be making appearances around the state this year, including the upcoming Cave Creek Wild West Days and the Carefree Electric Light parades. Her hope is to visit all major points and cities across the great state she represents. Miss Decker-Knealing's sponsors include her friends and family.