My View

BY DON SORCHYCH | AUGUST 19, 2015
Cave Creek news and future
The Wednesday, August 12, Cave Creek special council meeting importantly ruled on settlement of the long standing lawsuit of now ex-Town Manager Usama Abujbarah against the town of Cave Creek and a separate lawsuit, in federal court against the town and recalled Vice Mayor Adam Trenk.

The amount the town paid to settle the lawsuit was $300,000, one tenth of the amount asked for in the lawsuit. The $300,000 paid Abujbarah's lawsuit to date and the amount he would have been paid on his contract, violated by the slate.

Although I don't think the lawsuit affected the council very much the air is cleared and they can move on to important town issues and problems.

I think they should start from their promises or we will call Trump, only joking. First of all they should move quickly to deny any road closures except for Fiesta Days, Wild West Days and CCUSD Homecoming. NO OTHERS!

Secondly, businesses must provide parking for their patrons and white tents should be denied business licenses to operate in Cave Creek.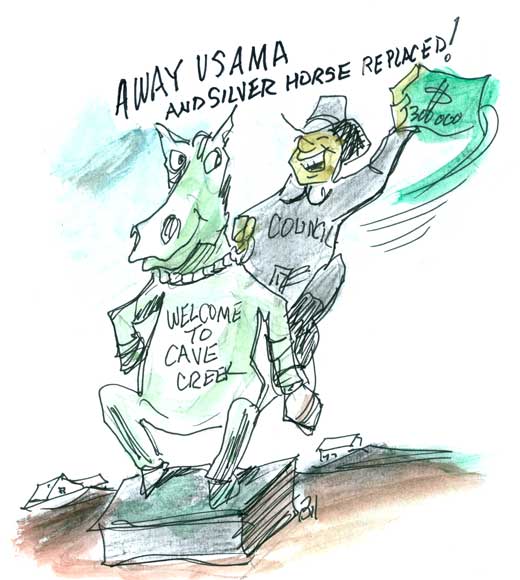 The council should debate whether the town, which operates on sales tax, should be in the marketing business or not. Currently they are using Town Marshal Adam Stein as the town marketing person. And what is his latest bright idea? He wants to be on the front page of a publication along with his gofer, Patty Pollnow, riding horses while in western garb herding cows down our streets. Any excuse to close streets, and to make the two of them important actors in town at taxpayer expense.

Pollnow was hired by Interim Town Manager Rodney Glassman and was instrumental in freezing Sonoran News out of any advertisements for the town. Employees at Town Hall stop talking in her presence because some claim she is a direct line to Glassman and Adam Trenk, even though they no longer have any direct relationship to Cave Creek. She was not hired as an employee but as a contractor and was placed in the last town budget.

I once complained to Town Manager Peter Jankowski about the fact she is supposed to support town businesses and we have been a Cave Creek business for over 20 years. He said she told him she called on us. No she hasn't, not once, not ever! She lied if she told Jankowski that.

So, now, having about a dozen emails from competitors sent to them by Pallnow, I am collecting more. We have received none from her so apparently she was taught to not support us and remains a champion of the dark side. Why is she employed, picking and choosing which businesses to support, and why is Cave Creek in the marketing business anyway?

I served on the Cave Creek Chamber of Commerce for many years. The chamber has gone through several name changes and is now the Cave Creek Merchants and Events Association (CCMEA). Why aren't they marketing the town? That is what chambers do. It would seem to me that the chamber's business associates and members should step up, not the town.

Then there are horses, metal horses, bracing the town. A citizen complained that the horse on the south/west end of town was in an unfit location and should be surrounded by landscaping. Come on, this is Cave Creek, not Scottsdale.

Better yet, the idea to place them at the rodeo grounds is a good one. Every time I see that $20,000 pair it reminds me of Rodney Glassman, Adam Trenk and the recalled slate. Give the town a break and put them at the rodeo grounds, in a shed somewhere or sell them.

Jankowski has a problem with the former Tap Haus, now the Roadhouse, which has intruded on Cave Creek turf when they put in an addition on the south side of the building. Seems Roadhouse had a permit for inside work that didn't extend to outside changes. Now the town has a liability problem they didn't bargain for. Is the town going to force the Roadhouse to get off town property? They should; now will they?

This issue has developed animosity with Vice Mayor Steve LaMar who has demanded answers from Town Manager Peter Jankowski in an email. Expect a thorough examination of the history and future of abuses of Cave Creek's property in the next council meeting.

A major problem from long ago still simmers at town hall. There are rumors two employees were sexually harassed. We investigated and what we learned was bothersome. We interviewed the women who were allegedly harassed and they denied it happened. Both, we believe, were protecting their jobs.

I asked Jankowski about it. He said you know some women like to be hugged and others don't.

During a recent council meeting, Mayor Vincent Francia had a question and answer discussion with our new Town Attorney Bill Sims. Sims said it was not a council issue and the town manager should investigate the claim by reporting it immediately to the risk pool. It was investigated but neither the risk pool nor Human Resources (yes, we have one), were ever involved.

I think members of the council have been informed by employees and I assume action will be taken. It is in overtime now.

We now have a functioning non-slate council. Attendance at council meetings will show you there are seven individuals with their own views about how to govern the town. There is still some clean up to do and I believe those things will be done.

Unmentioned but important issues are to develop the Carefree Highway corridor with commercial businesses to assure the town's future. Another is to resolve the future of state lands acquired through annexation. And lastly, keep the infrastructure healthy and improving.

P.S. I don't normally do this in an editorial, but Buffalo Chip owner Larry Wendt has exciting news (See his ad on page 6). "Big Marv" from the closed Pinnacle Peak Patio is now at the Chip after cooking 11 million steaks while at the Patio. Steak lovers, go for the best!