My View

BY DON SORCHYCH | JULY 29, 2015
Clowns of Cave Creek
Readers of Sonoran News have read Linda Bentley's news article and my editorial about the dark side of Cave Creek claiming we are anti-Semitic. It is not only stupid because our 14-year veteran reporter is Jewish but we are 100 percent supporters of Israel and always have been. We supported the four council candidates against the slate, one of which was Jewish. That is not a record of anti-Semitism, nor is my personal friendship with scores of Jewish people.

With that background in mind, two idiots appeared in Call to the Public to, once again, complain that the council erred in granting Sonoran News the right to publish legal notices.

Sonoran News smashed George Ross's claim of us being against Jews when Linda Bentley got up to simply ask if she would work for an anti-Semitic newspaper for fourteen years? That blew the dark side story out of the water.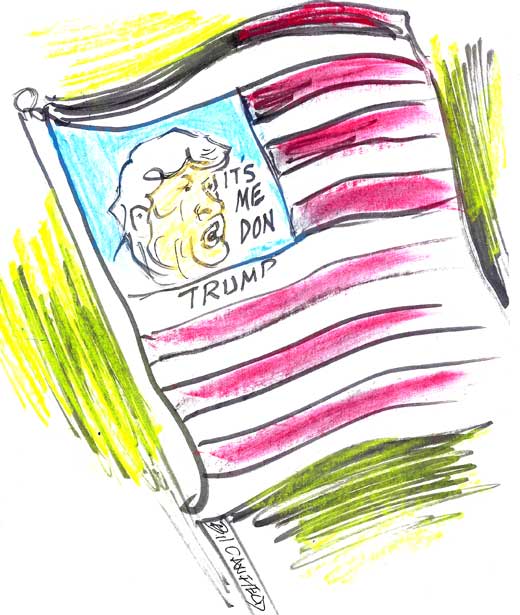 Dark side clowns slate loser Rag Monocline and Anna Marsolo's ex, Paul Daffydorker, or is it Diefenderfer, had old and inaccurate stories to tell.

I videoed them both, so you can click on the links below to see both performances. Please excuse the movement. I'll use a tripod next council meeting. You can view it as many times as your stomach allows.



(Direct link to YouTube)



(Direct link to YouTube)

Monachino, who would play with his brain if he had one, made excessive use of what the dark side thinks is a real criticism calling us a "tabloid." We of course are a broad sheet newspaper and have always been one.

Other than that, he complained we were not qualified to be the official newspaper of Cave Creek and were a "hate" newspaper, an actionable lie. In fact, Monachino copied our cartoon, was warned it was copyright protected and he and his dupe Ross delivered it to a council audience and council. Both Ross and Monachino are guilty and we have a long time before we are required to file for damages. It is a slam dunk suit because they were warned. And he says we are immoral?

Diefenderfer had a lot of worn out assertions. I had respect for him until his nonsense last night. When he came to town his wife Anna was a good bit older than he, or so it appeared. I asked our reporter at the time to cover a story about Game and Fish agreeing to close a section to hunting near their house. We had covered stories about deer and javelina being killed on their property. We drove to Penny Cox's (now owned by Ernie Bunch) house and when the game and fish agent said it was up the mountain I asked the reporter to go snap pictures and I would wait for him at the car.

Soon he came down the mountain all red faced and sweating and said, "Oh I screwed up." He went on to say he tried to start a conversation and he asked Diefenderfer why his mother was so adamant about closing hunting and she flew into a rage.

You may not know that Diff had a climbing wall in Tempe. He carried cement on his shoulders to create a path up Pinnacle Peak and did great iron work. He still does various jobs from his bachelor home and we have been supportive of him when friends of Marsolo complain about him, his house, his yard etc.

But that was yesterday.

At the council meeting he complained about our cost for advertising versus the Arizona Republic. He added that Sonoran News papers are in the garbage at the post office. We have had that assertion before from dark side critics and are used to it. The fact is some people have two mailing addresses and yes; a few, very few don't like our honest conservative newspaper.
There is much patriotic teaching in Sonoran News and even they could understand it, or at least Diefenderfer possibly could.

We have a friend who is active in most Tea Party meetings and always gets our newspapers to take to every meeting from the post office. If he needs more he gets them from us. He said the most he ever got "dumpster diving" in the post office was 30 papers. About 1,900 boxes are filled so that is about 1.5 percent. All other mailing addresses are filled with Sonoran News. The whole idea behind the town's change was to assure everyone got the important legal notices the town is required by law to print, while the Arizona Republic reaches a relative few.

The dark side's continuing attacks are about the fact they charged us with the recall and their stinging loss. All we did was report news and editorials about their two year performance, and it wasn't pretty.

Monachino was one of the least adept of the slate and he continues to think he is or will be a councilman again. We hope he tries again since his statements are so comical you would think he is comedian. He isn't a comedian; he is dangerous to be put in any leadership role so expect disasters like "his" administration was. Start with Interim Town Manager Rodney Glassman – seven months of shame – and go on from there.

Court records about terminated Town Manager Usama Abujbarah are chock full with the slate's emails back and forth between each other as are their depositions, which register time periods before and after their election. All of this information will make interesting news stories and editorial comment.

Abujbarah's lawsuits are reaching the point where there will be a negotiated settlement or a jury trial this fall. The town risks a $3 million judgment. Seems to me if this council is as competent as voters have said by record votes, the council will find a way for a settlement that is fair to the town as well as Abujbarah.

Settlement is more likely with town Attorney Bill Sims rather than the slate cooperative Mariscal Weeks, now Dickinson Wright.