JUNE 17, 2015
State's oldest and largest no-kill shelter uses innovative techniques to help enrich lives of pets awaiting adoption
PHOENIX — We've all heard that it's important to read to your baby for his or her development, but could it help your dog or cat be a calmer, happier pet?

The Arizona Animal Welfare League & Society for Prevention of Cruelty to Animals (AAWL & SPCA) is using reading as a tool to help animals in their shelter become happier, more socialized pets.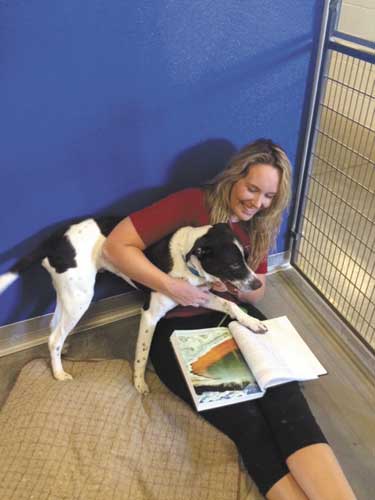 Volunteers spend time reading to dogs and cats awaiting adoption at the state's oldest and largest no-kill shelter.

"Reading is an important socialization activity for dogs and cats," explains Whitney Fletcher, Director of Volunteers & Special Events at AAWL & SPCA. "It helps fearful dogs and cats become more comfortable with people without forcing interaction.

"As you read out loud, you are focusing on something other than the animal," she explains. "In turn, the animal grows accustomed to your presence and voice, which is calming."

It really doesn't matter what the volunteer reads, she notes, adding that college students volunteering at the shelter often read their text books to the animals. "Dogs and cats find the rhythmic sound of a voice very comforting and soothing."

AAWL & SPCA volunteers can either bring their own books or borrow one from the shelter's free Little Library.

The reading program is one of the socialization techniques the organization uses to help dogs and cats become better pets. Other programs include night walks with shelter dogs at local parks and "Doggie Coffee Dates," in which volunteers take pups with them to local coffee shops each Saturday. These programs helps the dogs learn to interact with strangers and become accustomed to new situations.

For more information about AAWL & SPCA, go to www.aawl.org or call 602-273-6852.
You can make the difference for Foothills Animal Rescue

You can make the difference in saving lives. Not ready to add a new pet to your family? You can volunteer, foster, donate to provide care, spread the word on our adorable, adoptable shelter guests. Every little bit helps, and you make that happen. Make something happen today.