MAY 13, 2015
First annual concert event in support of International "March Against Monsanto" Day of Action!
TUCSON – In solidarity with international "March Against Monsanto" day of action, activist musicians and speakers come together to ignite change through the first annual "Music Against Monsanto" event on Saturday May, 23 starting at 7 p.m. at the Sea Of Glass – Center For The Arts.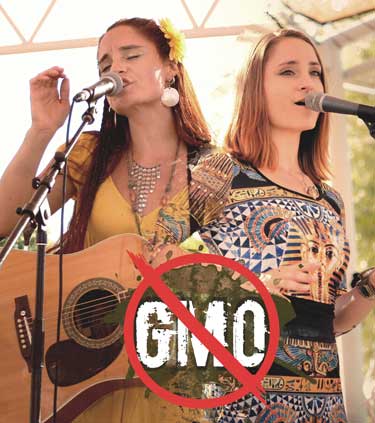 The event synthesizes music and education to bring awareness to the health and ecological concerns raised by Monsanto's advocacy and proliferation of genetically-modified organisms (GMOs). Event organizer Amadon DellErba says, "We hope to educate and motivate individuals to embrace a lifestyle of actively consuming only GMO-free foods in their diet, and to oppose Monsanto's unethical and unjust practices that modify and control America's food system." Attendees are invited to celebrate and learn from presenters that strive daily to create a world and food system based on health, resiliency, and wholeness.

Celebrate a positive vision of the future with uplifting music performances by Global Change Music artists: 8-piece indie rock band VansGuard, featuring identical twins DeleVan & SanSkritA DellErba; followed by talented songstress Ellanora DellErba & the Israfel Awakened Band. Global Change Music lyrics encourage taking action against injustice, and labeled bands live their music's message in their personal lives.

Educational and entertaining theater skits will be performed by Global Change Theater to showcase the importance of standing up for transparency and resiliency in our food systems. While imbued with a powerful message, these skits ultimately bring joyful optimism to the night's topic by talented and dynamic thespians.

Presentations by activist speakers bring the conversation to real life with practical knowledge and advice attendees can use in their own lives. A Tucson native and Creative Director of GMO-Free Tucson, Jaime Hall will speak on her efforts to eradicate her young son's chronic gastrointestinal pain and severe food allergies that led her to partnering with organizations across the nation to push for labeling and/or banning of products containing Genetically Modified Organisms(GMOs). TaliSeen Combs, garden coordinator for Avalon Organic Gardens & EcoVillage in Tumacácori, Arizona, will share his firsthand knowledge on producing GMO-free foods through organic agriculture. More speakers to be announced.

Proceeds from the event support Avalon Organic Gardens Internship programs which educate people about the importance of sustainable farming practices and how to grow food without chemicals or GMOs. Avalon Organic Gardens & EcoVillage is one of the largest EcoVillages in the United States incorporating organic farming, permaculture principles, alternative building, water harvesting, alternative energy, composting, and more.

While the world marches against Monsanto on May 23rd, all food activists, conscious consumers, gardeners, farmers, and researchers alike are invited to benefit from this celebratory coming together against injustice and corruption in our food systems.

Tickets are $10 advance / $15 day of show. Dinner/concert package with the Food For Ascension Café is $42. The Sea Of Glass – Center For The Arts is located at 330 E. 7th Street in Tucson, just off of 4th Avenue next to the Hippie Gypsy. For more information about shows, classes, and rentals visit http://theseaofglass.org/ or call 520-398-2542.