APRIL 8, 2015
Arizona Opera brings sparkling comedy for its 2014-15 season finale
The Daughter Of The Regiment – April 10-12 in Symphony Hall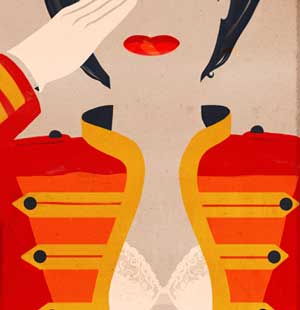 PHOENIX– The Arizona Opera concludes its 2014/15 season with Gaetano Donizetti's whimsical and hilarious romp, The Daughter of the Regiment, a bright, sparkling comedy following Marie, a feisty young girl raised by a regiment of French soldiers high in the Alps. Peppered with exhilarating melodies, astonishing high notes and outrageous fun, Marie rappels between her patriotic loyalty to her "dear brothers" and the expectations of "polite" society.

This hilarious comedy kicks off in the sprawling Tyrolean mountains and features coloratura soprano Susannah Biller in the title role of Marie. Biller, whose recent engagements have included Daisy in Harbison's The Great Gatsby and Eurydice in Glass's Orphée, has a voice described by San Francisco Classical Voice as "light, sweet, and gorgeous." Andrea Shokery, a dynamic young performer quickly garnering attention for her magnetic stage presence, will play the role of Marie on Saturday, April 11.

This accomplished cast also includes rising star David Portillo, who will make his debut at the Metropolitan Opera in New York City this December in The Barber of Seville. Here, Portillo portrays Marie's love interest Tonio, a role famed for its tenor hitting an incredible nine high C's in one aria. Stefano de Peppo performs as Sulpice, the sergeant of the French army. Playing the role of Duchess Krakenthorp is beloved actress and comedienne Didi Conn, best known for her starring role as Frenchy in the film Grease. The Daughter of the Regiment will be directed by John de los Santos and conducted by Keitaro Harada.

Performances are April 10 and 11 at 7:30 p.m. and April 12 at 2 p.m. at Symphony Hall in Phoenix.

Tickets for The Daughter of the Regiment start at $25, and are available at www.azopera.org or by calling 602.266.7464. Tickets are also on sale at the Arizona Opera Center Box Office at 1636 N. Central Ave, Monday through Friday from 8:30 a.m. to 5 p.m.