BY LINDA BENTLEY | MARCH 25, 2015
Carefree selects two new council members, Crane as vice mayor
Rawles: 'Leave personal vendettas at home. They have no place in public service'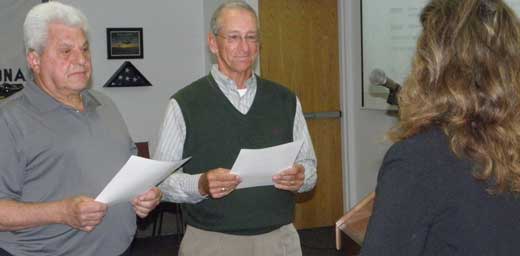 Gene Orrico (l) and Bob Gearhart were sworn in by Town Clerk Candace French after being selected to fill the two vacancies on council. Photo by Linda Bentley



CAREFREE – Acting Mayor Les Peterson explained the process council would be using to select two new council members from a field of seven applicants.

The applicants: Daniel Davee, Bob Gearhart, Tony Geiger, Arthur Gimson, Michael Krahe, Gene Orrico and Tom Rawles, who had all previously interviewed individually with each member of council, spoke briefly during Tuesday night's special council meeting.

While the last council meeting became steeped in personal animosity with Councilman Glenn Miller publicly accusing Councilman Mike Farrar of completely unfounded conflict of interest charges, it was as if council heeded the advice Rawles gave while addressing council: "Leave personal vendettas at home. They have no place in public service."

During public comment, Jim Van Allen, who planned to speak, said, "After what Mr. Rawles just said, you can put [my request to speak] aside."

Former Carefree Town Clerk Betsy Wise, a Cave Creek resident, spoke in support of Geiger and said she serves with Geiger on the Water Advisory Committee (WAC) for the town of Cave Creek.

Peterson told citizens, "This is probably one of the hardest decisions we have," noting there will be five people who are not selected.

However, Peterson encouraged those who are not selected to consider other involvement on committees or commissions.

Orrico was selected to fill the first vacancy and Gearhart to the second.

They were both immediately sworn in and took their seats on the dais.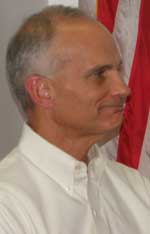 Peterson said the selection of Vice Mayor was equally hard and nominated Councilman John Crane (l).

He told the two newly sworn in members of council to feel free to abstain from voting if they felt uncomfortable.

With no other nominations, Crane was voted in unanimously with Gearhart abstaining.

Prior to adjournment, Town Clerk Kandace French swore Crane in as Vice Mayor.