BY LINDA BENTLEY | FEBRUARY 11, 2015
Schwan resigns
Schwan continued by announcing the sad news that he just received a diagnosis he has ALS, commonly known as Lou Gehrig's Disease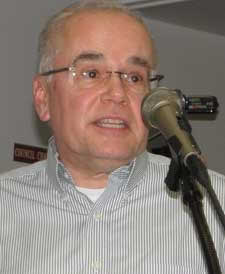 CAREFREE – As the town got no closer to resolving conflicts surrounding the proposal for a cultural facility brought forward by ASU and Butte Companies during the Feb. 3 council meeting, Mayor David Schwan (l) made a shocking announcement the following morning.

Schwan sent out a notice to citizens of Carefree through COINS announcing his resignation as mayor.

He wrote, "Effective noon today, Feb. 4, 2015, I resign my office as the mayor of the town of Carefree.

Schwan continued by announcing the sad news that he just received a diagnosis he has ALS (amyotrophic lateral sclerosis), commonly known as Lou Gehrig's Disease.

ALS is a progressive neurodegenerative disease that affects nerve cells in the brain and the spinal cord.

Schwan said he was having increasing difficulty fulfilling the duties and obligations of the office of mayor and stated he will be unable to meet those commitments in the future.

He, along with his wife, Binka, will be devoting all of their time and energy addressing the consequences of ALS.

Schwan thanked town staff, Carefree Water Company and the Carefree-Cave Creek Consolidated Court for their "excellent dedicated work while he served as mayor."

He also thanked the citizens of Carefree, whom he has had the privilege of serving for over 12 years on committees, town council and as mayor.

Schwan said, "It has been an honor and most rewarding experience."

Vice Mayor Les Peterson will serve as acting mayor until the Feb. 10 meeting, when council will vote to select from the sitting members of council, which may or may not be Peterson, a mayor to serve out the rest of Schwan's term.

The next step in the process will be to put out a request for applicants to fill the vacancy on council left by the council member selected to fill the mayor's remaining term and then form a committee to interview the applicants and make a recommendation to council, which will vote to appoint a person to fill the rest of the term, which, due to the new consolidated election law, terminates Dec. 31, 2016.

Due to the outpouring of concern and generosity by citizens as well as those outside of the town, the Schwans have requested correspondence be sent to the following address: PO Box 5984, Carefree, AZ 85377. David's email is mayorschwan@icloud.com, Binka's email is binkaknits@gmail.com.