BY LINDA BENTLEY | FEBRUARY 11, 2015
'Clarification' keeps on coming re: Rancho Mañana
'After Jan. 1 we will no longer supply 'CAP' water or water from Vermeersch Well to Rancho Mañana Golf Course'
CAVE CREEK – There's been a lot of hoopla lately attempting to clarify and re-clarify the "confusion" about the town's contract to deliver treated effluent and other water to Rancho Mañana Golf Course.

After Vice Mayor Adam Trenk touted cutting off water to the golf course as an accomplishment of his slate of recalled councilmen, Mayor Vincent Francia has now stepped in with a piece distributed through the town's e-mail system, titled, "A drink of truth about Rancho Mañana Water," claiming the town's contractual obligation to Rancho Mañana is "to deliver a minimum of 107,547,000 gallons and a maximum of 146,655,000 gallons of treated wastewater effluent per year to the golf course."

He concludes by stating, "The end result of all of this is that Rancho Mañana will get all the water they need and are entitled to, the town will recapture a significant amount of drinking water for the citizens and Cave Creek Water Company will realize a significant cost savings. This is a great outcome for all parties involved and a great job by town staff for identifying and solving a significant problem."

Francia said he wrote the piece with the assistance of Tony Geiger, a member of the Water Advisory Committee (WAC), with the disclaimer that Geiger was not speaking for the committee.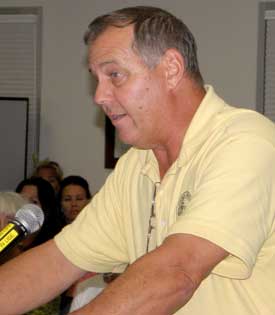 This whole thing started with an e-mail on Dec. 11, 2014 from Town Engineer David Prinzhorn (r) to staff members stating, "We must figure out how to get the plant backwash water into the holding tank and get the effluent return pumps functional back to the head of the plant before Jan.1.

"After Jan. 1 we will no longer supply 'CAP' water or water from Vermeersch Well to Rancho Mañana Golf Course.

"We need to get this solution figured out in the next three weeks."

Sonoran News contacted Town Manager Peter Jankowski after he and Prinzhorn met with Rancho Mañana Golf Course owner Mike Allred and General Manager Dale Samar.

According to Jankowski, the parties walked away from that meeting with the understanding that Rancho Mañana Golf Course's contract with the town was for the supply of treated effluent, supplemented with untreated CAP and/or Vermeersch Well water, which has arsenic levels too high to blend into the potable water supply, as necessary.

When the town had too much of either, it dumped it in the golf course's lakes.

While the wastewater treatment plant produces enough treated effluent annually to supply the golf course, it doesn't produce enough when it is needed the most and produces too much when less is needed.

In other words, the golf course requires more effluent during the summer months, which is the town's slow season and when the treatment plant produces the least amount of effluent.

Jankowski asked if I wanted him to have Prinzhorn call me so he could answer any questions I had.

I said yes.

Prinzhorn didn't call. Instead he sent an e-mail on Dec. 16 that opened with, "Peter asked me to communicate to you the intensions of the attached e-mail that I sent to staff last week."

He went on to state, "The Water Advisory Committee (WAC) has reviewed the existing water delivery contract with Rancho Mañana Golf Course and has determined that the golf course is only entitled to treated wastewater effluent and not any waters that could be used for potable use. This will now need to be confirmed with the town attorneys."

That's not the understanding Allred and Samar walked away with from their meeting at town hall.

For starters, the golf course has never been supplied with potable water. Untreated CAP water and arsenic-laden Vermeersch Well water are not potable water supplies.

On Jan. 6, Sonoran News sent a records request to the town asking during which WAC meeting the Rancho Mañana contract was reviewed, as it doesn't appear to be on any agenda. They too are subject to Arizona's open meeting law.

To date we have received no response.

After the meeting, we spoke to Samar, who said it was a misunderstanding on the town's part and Prinzhorn's misinterpretation of their contract.

He said they walked away from their meeting with the understanding the town will continue to supply the golf course with whatever combination of treated effluent, untreated CAP and Vermeersch Well water it needs.

Because of statements Trenk has been disseminating about cutting off potable water to the golf course, with which it has never been supplied, Samar sent an e-mail to Prinzhorn and Jankowski on Jan. 26 to follow up and make sure they were all on the same page as far as their current understanding of the water supply agreement goes.

He asked for confirmation from the town in writing that their agreement covers "all types of water and not just effluent and that the effluent water supply may have to be supplemented by either ground water or CAP due to our need for water at different times of the year, which may exceed the amount of effluent water produced at that same time."

Samar also asked the town to confirm the golf course will only be "billed for what we use and not for everything that is pumped into the lakes when your effluent production is higher than our needs (and you still need somewhere to put it) or your backwashing process exceeds our water needs as well (all due to the fluctuation of our water needs throughout the year and due to your need to pump the water somewhere.)"

He said those were the main points discussed during their meeting but to feel free to add anything or just reply that they believe they all have the same understanding of the agreement.

On Jan. 26, Prinzhorn responded by stating, "In regards to our meeting a couple of weeks ago, the town will continue to honor the current contract with Rancho Mañana Golf Course as written providing 330 acre-feet of water per year for your facilities turf irrigation with a 450 acre-foot per year cap.

"The water delivered to the Rancho Manana Golf Course will be primarily treated wastewater effluent supplemented, as needed, with water from other town water sources.

"Per the terms of the current contract, you will only be invoiced for water you actually use for turf irrigation."

Now if the water treatment plant is malfunctioning, as Prinzhorn claims, that's another story but it should not have anything to do with the town's water delivery contract with Rancho Mañana Golf Course.

Apparently the WAC is planning to make a presentation to council on Feb. 17 to further clarify the issue.