BY LINDA BENTLEY | JULY 9, 2014
Could theater venue solve Carefree's business woes?
Strupp said they would need to have public enthusiasm for the project and stated it 'must appeal to heart and mind in addition to the wallet'
CAREFREE – During the July 1 meeting, with Councilman Marty Saltzman absent, council unanimously approved the consent agenda, which included a proclamation naming the week of Sept. 22-26, 2014 as "Employer Support of the Guard and Reserve Week."

Bill Mack, representing Employer Support of the Guard and Reserve, thanked council for issuing the proclamation and commented about the difficulty returning veterans have finding employment.

Mayor David Schwan introduced Stacey Bridge-Denzak, a Cave Creek resident, as the town's new planner who will be replacing D.J. Stapley, who has decided to return to college to attend law school.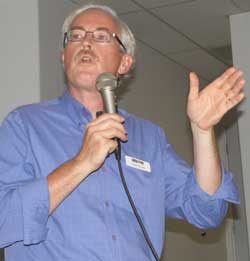 Peter Strupp (r), president of the Desert Foothills Theater (DFT) board, a part of the Foothills Community Foundation (FCF), presented the possibility of DFT having a venue in the Carefree town center, perhaps in conjunction with the town's expansion of the 8 Sundial building for new council chambers.

Strupp said DFT has outgrown the Fine Arts Center at Cactus Shadows High School and touted the theater as multi-generational with children as young as 4 participating.

According to Strupp, a well-run performing arts center would improve the year-round activity in the town center and enhance the quality of life in the community.

He said a 200 to 250-seat venue adjacent to town hall would not only be an ideal location for a community theater, it could provide the town with council chambers, show movies, hold film festivals and supply public social space.

Strupp said a theater would provide increased foot traffic in the town center, it is economically sustainable and it "builds on and strengthens the Carefree brand."

He stated DFT has the ability to keep the facility booked.

While he said there are currently two successful community centers in the area, including the Holland Center on 60th Street south of Carefree Highway, where DFT and FCF are currently located, and Desert Foothills Library, Strupp said neither are pedestrian friendly locations.

He said, typically community theater is sustainable with 65 percent of its earned income from ticket sales and the balance from public support.

Strupp said they would need to have public enthusiasm for the project and stated it "must appeal to heart and mind in addition to the wallet."

"We are extraordinarily excited," said Strupp, at the prospect of having a theater in the town center.

According to Schwan, after the town heard the presentation by Ed Lewis about developing his Easy Street project contingent upon the town attracting some sort of cultural arts venue as an anchor, DFT theater came to the town to make it's pitch.

Councilman Glenn Miller asked what the next steps would be in turning the proposal into a reality.

Strupp said the next step would be continuing the conversation with the town.

Vice Mayor Les Peterson said he's been involved in these conversations over the past 12 months with the Phoenix Art Museum, which has since declined, and ASU's performing arts school.

However, Peterson said, "We have experience with DFT," with its proven management and sustainability.

He said they've been working together on a 10-year plan.

Peterson called DFT "culturally consistent" and said he was very excited about the prospects of a theater in town, stating, "I'm very much in support of this."

Councilman Mike Farrar said, "What a great vision" and stated it would be a great social environment.

He also asked about parking for a theater venue.

Schwan said a theater requires one parking space per every three seats and stated, "It is an intense use because everyone comes at once."

Councilwoman Melissa Price asked about ASU doing a presentation as well.

Schwan said they asked ASU to appear but they weren't able to attend that meeting.

Councilman John Crane asked about funding for the project.

Strupp said there would be a dedicated fundraising effort and it could take six months to a year to determine interest in the project.

Price said she would like to see ASU's presentation at the August meeting and asked if the town saw this as something to be part of the Easy Street project.

Schwan said Lewis wants an anchor but doesn't care where it is.

Schwan also pointed out, "ASU brings no money with them," and said the FCF comes to them with a plan and a vision.

During public comment, Lyn Hitchon said when she and her husband lived in Philadelphia they used to attend theater in a nearby community, which she said was a boon to economic development with packed bars and restaurants.

Council unanimously approved the town's 2012-2022 preventative road maintenance plan with an additional $75,000 for contingency.

Without taking any action, council held the first reading of an ordinance to amend the town code to allow businesses not located in Carefree but that conduct business in Carefree to obtain a Carefree business license.

According to Town Administrator Gary Neiss, when the town adopted business licenses a few years ago the ordinance passed by council required the business to be located in Carefree.

He said there are businesses located in other municipalities that wanted to obtain a Carefree business license, but were precluded from doing so under the current ordinance.

If council approves the second reading next month, Neiss said the new ordinance would go into effect 30 days from that date.

He said the $40 license fee helps fund the town's marketing and economic development efforts.

Stapley introduced another ordinance as a housekeeping measure, stating the town's zoning ordinance, although updated, is still referenced by the old date in its title, which he said could cause some confusion.

Stapley suggested passing the ordinance as an emergency measure so it would go into effect right away, which council did unanimously.

Council voted to go into executive session to discuss contract negotiations for judicial services for the Carefree-Cave Creek Consolidated Court and negotiations concerning development projects in the town center.

Following the executive session, council reconvened in public session where it voted unanimously to table three special event permits and road closures for the Thunderbird Art and Wine Festivals.