BY LINDA BENTLEY | JULY 9, 2014
Brewer lashes back at Ninth Circuit ruling
'The American people are tired and disgusted … but they can be assured Arizona will continue to fight for the rule of law'
SAN FRANCISCO – On Monday, the Ninth Circuit Court of Appeals reversed and remanded the district court's denial of a motion for a preliminary injunction in a case challenging an Arizona policy prohibiting recipients of Obama's executive order called Deferred Action for Childhood Arrivals (DACA) from obtaining driver licenses using employment authorization documents as proof of their authorized presence in the United States.

The three-judge panel, made up of Harry Pregerson, a President Carter appointee; Marsha S. Berzon, considered one of President Clinton's most liberal judicial appointees; and Morgan Christen, a President Obama appointee, agreed the plaintiffs, made up of the Arizona Dream Act Coalition, an organization that promotes the interests of illegal aliens, and five DACA recipients, demonstrated a likelihood of success on the merits of their equal protection claim.

The court held, "contrary to the district court's conclusion," plaintiffs would likely suffer irreparable harm unless the policy of not issuing driver licenses to these illegal aliens was enjoined.

However, being precluded from obtaining driver licenses did not seem to inconvenience many of these illegal aliens, who admitted they drove without licenses prior to receiving DACA relief.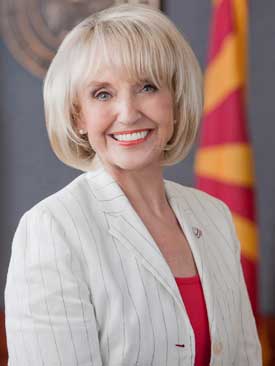 Governor Jan Brewer lashed out at the decision and stated, "In 2012, based on President Obama's lawless directive, the Department of Homeland Security (DHS) made an administrative policy choice to defer removal proceedings of illegal aliens who were brought to the United States as children, a program referred to as DACA. This policy choice is not federal law authorizing an illegal alien's presence in the country – it simply is a choice by the executive branch not to enforce deportation proceedings as required under existing federal statute."

DHS has made it clear the DACA Program does not grant legal status or any substantive rights that only Congress may grant.

Brewer charged the president's DACA Program, a decision not to enforce federal law, with being responsible for "the massive influx of illegal crossings and the crisis we are witnessing today."

She said, "If the Ninth Circuit ruling is allowed to stand, the president, as he has already threatened, can contrive a new program refusing to deport the latest arrivals, issue employment authorization cards, and Arizona would have to issue licenses to them as well."

The panel was only called upon to determine whether plaintiffs were entitled to injunctive relief.

Joining the majority opinion issued by Pregerson, Christen wrote, in concurrence, "Because the Supreme Court has consistently cautioned that the regulation of immigration is an exclusively federal function, and because plaintiffs have persistently and persuasively argued that Arizona's revised policy creates a new classification of alien status, I conclude that plaintiffs are entitled to preliminary injunctive relief under this theory."

While regulation of immigration may be a federal function, Arizona law does not regulate immigration, it seeks only to prevent illegal aliens from obtaining benefits to which they are not entitled.

A.R.S. § 28-3153(D) states: "Notwithstanding any other law, the department shall not issue to or renew a driver license or nonoperating identification license for a person who does not submit proof satisfactory to the department that the applicant's presence in the United States is authorized under federal law."

As a result, Brewer stated the Arizona Department of Transportation determined DACA recipients – as well as deferred action and deferred enforced departure individuals – do not have legal presence under federal law.

Brewer concluded by stating, "Lawless decrees by the president demonstrate animus to Congress, states and the Constitution. It is outrageous, though not entirely surprising, that the Ninth Circuit Court of Appeals has once again dealt a blow to Arizona's ability to enforce its laws. With today's decision, a three judge appellate panel, appointed by presidents Carter, Clinton and Obama, disregarded judicial precedent and procedure. This continues us down a dangerous path in which the courts and the president – not Congress – make our nation's laws. The ruling is especially disturbing given the current influx of illegal aliens, a crisis President Obama created and escalated. I am analyzing options for appealing the misguided court decision. The American people are tired and disgusted by what is happening through our federal government today, but they can be assured Arizona will continue to fight for the rule of law."