BY LINDA BENTLEY | JUNE 4, 2014
Monachino is the one who appears completely clueless as to the form of government to which he was elected to serve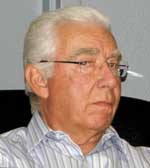 CAVE CREEK – On May 28, Councilman Reg Monachino (r), who is being recalled, sent out an e-mail with a subject line that read: "Proud but uninformed citizen."

The e-mail itself was titled, "Step 1. Shoot Self in Foot."

As he referred to John Ford's guest editorial in the May 14 edition of Sonoran News, he attempted to discredit Ford by picking apart his work with references to Lake Woebegone and the Fonz from the TV series "Happy Days," while reminding Ford, "[V]oters are not stupid."

Monachino states, "It seems to me that we today have the most transparent town government since the Davis no growth term."

He goes on to say Ford is simply "parroting" what Sonoran News Publisher/Editor Don Sorchych wants him to say, claiming Ford has confused "transparency with the departure of the town manager. Now, could his departure have been handled better? Many people think so. … The rant about the town manager is old news and I guess harking back to a procedural miscue that took place fifteen months ago (the election is in November?) probably won't get much traction."

Then, for his grand finale, Monachino chastises Ford for referencing Cave Creek's council-manager form of government, calling it his "classic blunder," and states, "That you could lack this knowledge belies your qualifications for elected office. Your confusion on this fundamental fact is probably a mortal blow. Don misstated the council-manager relationship incessantly for the previous town manager's power and benefit. Even Don's lies and slander will carry you only so far in the face of this clumsy inaccuracy."

Taking into consideration Monachino served on the town's budget committee, one would have expected him to have read the document, including the "Introduction," which is included in the June 2 council meeting agenda.

Page 7 of the budget, or page 156 of the agenda, under the section titled "Introduction," which provides basic information about the town, there's a paragraph headed: "Elected Officials."

It states: "The town of Cave Creek operates under the Council-Manager form of government. An elected town council consisting of seven members is responsible for making policy, passing ordinances, and voting appropriations. The town manager is responsible for overseeing operations, supervising staff and implementing the policies adopted by council."

Monachino concludes his insults to Ford with, "John, welcome to the campaign trail, but it appears you'd best come up with a MVP game plan because your rhetoric, a lack of the basics of Government 101 and a return to Happy Days ain't gonna do it.

"But keep shooting – you might even hit the other foot. I can't wait."

Monachino is the one who appears completely clueless as to the form of government to which he was elected to serve.

That he could lack this knowledge while never bothering to actually read a document he supposedly helped create seems to belie his own qualifications for elected office.

And, like he told Ford, voters aren't stupid.