JUNE 4, 2014
Take your family fishing on AZ's Free Fishing Day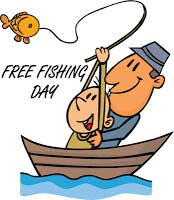 PHOENIX – You can fish Arizona waters for free this Saturday, making this an ideal time to take the family out for some fun and relaxing outdoor recreation.

Arizona's Free Fishing Day will be celebrated on June 7 this year as part of National Fishing and Boating Week. This Saturday, no fishing licenses are required for persons fishing any public waters in Arizona.

"Whether you're an experienced angler who wants to introduce a newcomer to the sport, or someone who's always been interested but never took that next step, this is an ideal time to gather up some friends and family members and head out to your nearest community lake, or head up to the cooler country to fish a lake or stream," said Nick Walter, editor of the Arizona Game and Fish Department's Weekly Fishing Report.

Remember that bag limits and other fishing regulations are in full effect and must be observed on Free Fishing Days. Kids under the age of 10 can fish for free all year long in Arizona, so this special fishing license exemption day means that the older kids and parents get a free pass for the day. Try fishing – you'll like it!

The Arizona Game and Fish Department will also sponsor some Free Fishing Day clinics/events to give people the opportunity to try out this fun, family-oriented pastime. Loaner fishing rods, bait and instruction are provided for free at most of these venues.

In addition, as part of National Get Outdoors Day on June 14, the Coronado National Forest will waive the day-use fees associated with many recreation sites or amenities on the forest in celebration of this day.