BY LINDA BENTLEY | APRIL 2, 2014
Thorstenson's incident reports tell a sordid tale
The deputy said Thorstenson had a large wet spot on his jeans at the crotch, appearing as if he urinated in his jeans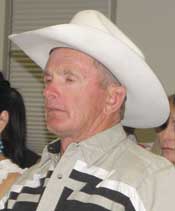 CAVE CREEK – After obtaining copies of the March 9 incident reports regarding the arrest of Collin Leroy "T.C." Thorstenson, 57, owner of Hogs 'N Horses Saloon in Cave Creek, it appears the story was even more sordid than originally reported.

It started with a 911 call from a frantic female just before midnight on March 8. Her cell phone was pinged to come up with a location.

Responding to the call, Maricopa County Sheriff's Deputy Guyette turned west on to East Yucca Road with Deputy Contino behind him.

They saw a white, late-model Ford extended cab pickup truck pass them heading east, driven by a man wearing a cowboy hat.

Guyette then made contact with the victim, who was distraught and crying. She identified Thorstenson as an older guy with a cowboy hat driving a newer extended cab truck.

She said the man told her he was the owner of the Hogs and Horses bar.

The information was relayed to Contino, who was following the truck they saw leaving the area.

The victim then told Guyette what happened.

She said her girlfriend and co-worker asked if she wanted to go to Cave Creek to a bar. The victim said she had never been to Cave Creek before and doesn't usually drink but agreed to go.

Her friend drove them to Cave Creek and stopped at Hogs 'N Horses where her friend said she knew the owner and sometimes goes there to hang out.

They both went into the bar and the victim bought herself a Margarita.

After a while, a man came around, whom the victim's friend introduced as T.C. Thorstenson, the owner of the bar.

Thorstenson and another man were talking to the two women and Thorstenson bought the victim another Margarita. He then asked her to dance.

The victim, although reluctant, said Thorstenson was insistent and she felt obligated because he got her a free drink.

After they danced Thorstenson provided her more free Margaritas and she drank some of them.

The victim said she was feeling very tired and just wanted to go home and go to sleep so she started looking for her friend.

She looked around the bar but couldn't find her. The victim tried calling and texting her friend numerous times to no avail.

She felt abandoned and didn't know what to do. She just wanted to go home and go to sleep.

Thorstenson told the victim he could take her home. Because she didn't feel comfortable going with him, she said no.

She said Thorstenson persisted.

After trying repeatedly to contact her friend, the victim, who just wanted to go home, finally agreed to let Thorstenson drive her home.

However, Thorstenson didn't drive her home. He drove her to his house instead.

She said she was hoping he was just stopping there for a second and then taking her home, but that's not what happened.

Thorstenson showed her into the house and made it a point to show her a large stuffed buffalo inside.

She said she began to panic and felt fearful of her safety, when Thorstenson led her to a room in his house.

Scared, she laid down on a bed in the room face down. When she rolled over she saw Thorstenson in the room removing his pants and then his underwear with his erect penis in plain view.

Thorstenson then approached her and pulled on her belt buckle and tried to remove her pants.

She said she told him to stop, told him, "No" and "No way" and ran from the house.

She climbed over the metal gate, ran down the gravel road and called 911.

Meanwhile, Contino caught up with the pickup truck driven by the man with a cowboy hat on Cave Creek Road at School House Road.

Contino activated his emergency lights and siren but the truck continued another half mile east on Cave Creek Road until it pulled into the Hogs 'N Horses parking lot.

When the truck stopped, the driver door immediately opened. Thorstenson leaned on the door and slowly got out of the truck, leaning on the door for balance.

The deputy said Thorstenson had a large wet spot on his jeans at the crotch, appearing as if he urinated in his jeans.

Because Thorstenson left the scene of the 911 call so quickly, when he got out of the truck, Contino detained him and read him his Miranda Rights.

Contino said he detected the odor of alcohol emanating from Thorstenson, whom he said had bloodshot and watery eyes plus slow speech.

As they walked over to the patrol car, Contino held onto Thorstenson's arm to help him balance.

When asked if he'd consumed alcohol, Thorstenson replied, "No."

Thorstenson, who was seated in the patrol vehicle, was brought outside for witness identification.

The victim, who finally located her friend, positively identified Thorstenson and she and her girlfriend were taken to the MCSO station to file a report.

Thorstenson was asked if he would be willing to perform any field sobriety tests, the first one being the HGN test, whereas all he would have to do was stand still and watch a pen move.

Thorstenson said he had eye surgery and the test would damage his eye. He then said he uses eye drops which made him physically unable to take the test.

When asked if he would perform any other tests such as walking an imaginary line or do a one-leg stand, Thorstenson told him those were tests of perception and the police always lied.

Thorstenson also refused to perform a breath test.

When Sgt. Tigges arrived on the scene he found two open crumpled up beer cans containing small amounts of beer on the floorboard of Thorstenson's truck, which were collected and placed into evidence.

Thorstenson was then placed under arrest for driving under the influence of alcohol.

After transporting Thorstenson to the MCSO District IV Station next to Cave Creek Town Hall, Contino advised Thorstenson he would need to submit to a blood test. Thorstenson refused and told Contino, "Get a warrant."

Contino drafted a search warrant, which was signed off by Commissioner Kongable.

While waiting for the phlebotomist to arrive, Contino said Thorstenson began exercising, doing pushups, jumping jacks and moving around a lot in his cell, working himself up enough to take his shirt off and breathe heavy, which Contino stated is an attempt to "burn off" the alcoholic evidence.

The phlebotomist arrived after 3 a.m. and drew two vials of blood.

Thorstenson was subsequently booked into the Fourth Avenue Jail on charges of indecent exposure, assault and varying degrees of DUI.

Because Thorstenson refused to consent to any tests to determine his blood alcohol concentration, A.R.S. 28-1321 requires an automatic 12 month suspension of his driving privileges effective 15 days from the date served.

While the truck he was driving, which is registered to his estranged wife/girlfriend Tracie Stevens, was towed away that morning, on March 26, day 15, Thorstenson was spotted driving his big pink tractor rig westbound on Cave Creek Road.