BY JOSH CHESLER | APRIL 2, 2014
Kiwanis Club of Carefree strives to expand youth programs and community involvement
New building will increase effectiveness of the organization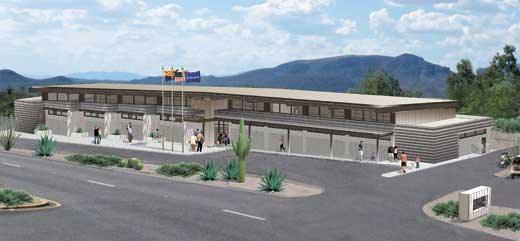 Kiwanis Marketplace ~ Architectural Rendering


Kiwanis Club of Carefree is looking to raise funds to create a new building to use as their marketplace beginning in 2015. Due to the organization's community involvement over the past 40 years, David Bell, the chairman of the Capital Fund Raising Committee for the local Kiwanis chapter, believes the project shouldn't be too difficult to fund if the club can increase the awareness within the community.

According to an official release from Kiwanis, the cost of the new building will be $1.5 million, but the club will only seek to raise $500,000 in donations from members of the community who aren't a part of the organization. The donations will be tax deductible, and any donation over $1,000 will get the donor a permanent spot on the club's "Donor Wall." To donate online visit www.kiwaniscarefree.org/Page/17148 where you can donate any amount you choose.
If you wish to mail a donation check, please send it to Kiwanis Club of Carefree, P.O. Box 1498, Carefree, AZ 85377.

Over the last five years, Kiwanis of Carefree has donated nearly $1 million to youth programs in the area, including over $200,000 each in scholarship money and funding for the Desert Foothills YMCA. Bell believes that the new building will only increase the amount they'll be able to give to the community. "We're constantly expanding and always getting bigger and better," said Bell. "We doubled sales at our current location last year, which means we also doubled the poundage, or amount of stuff, we bring in. The new building will allow us to handle more poundage and also add awareness for Kiwanis within the community."

With the current location of the Kiwanis Marketplace tucked into a small business center below street level at the intersection Tom Darlington Drive and Cave Creek Road, the building isn't easy to see. Since the marketplace is the primary funding for Kiwanis, a lack of visibility could severely hurt the organization's finances.

"It's not just a thrift store, it's a community store. It gives people a place to get rid of their old stuff, it's a great place to volunteer, and it's good for shoppers who are looking for a bargain," said Bell.

Kiwanis built the building that currently hosts the marketplace in 1999, but due to a 20 year deal with the town, the club will have to find a new location by 2019 at the latest, meaning that the move to a new building will have to happen one way or another. With approximately 200 members, Kiwanis Club of Carefree is a large organization with a very simple goal. "We try to do good things in the community," said Bell. "We try to solve problems."