BY MARIELLE D. MARNE | DECEMBER 4, 2013
'Tis the season for Santa snapshots and stem cell therapy
It's time again for pet pictures with Santa at Dove Valley Animal Hospital. From 9 a.m. to 12 on Dec. 7 come out for holiday fun – refreshments, vouchers for toenail clips, giveaways and a chance to meet the staff or wish them good tidings.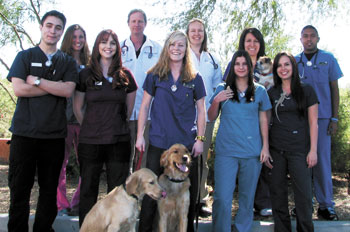 While photo ops with Santa have become a tradition at DVAH, there's always something new to enhance the lives of pets. Dr. Mike Kiedrowski and Dr. Jennifer Newquist are excited to offer stem cell therapy. This treatment, which uses your own dog's (or cat's, too) natural healing cells from fat tissue, can improve the quality of life by reducing arthritis pain. Think hip dysplasia or other injuries that may result in arthritis. Vet-Stem reports roughly 80 percent of dogs have slight to significant improvement. Often, Newquist added, there's a decreased dependence on non-steroidal drugs as well.

If you notice your pooch is not as exuberant as he used to be, or kitty is not jumping as high, schedule a consultation to see if stem cell therapy may be an option for your companion animal. The treatment carries minimal risk and involves a swift outpatient surgery to remove fat issue, then, two days later, the animal is sedated and cells are injected directly into the problematic joint. Results can come as early as 60 to 90 days and typically last a year. It's an amazing opportunity to perhaps tweak the hands of time for your furry friend. You could see a canine that's more active, perkier and even limps less!

Give Dove Valley Animal Hospital a call at 480-595-5731 to find out more about stem cell therapy or details on Santa pet photos. DVAH is open 7 days a week and is located at 4815 E. Carefree Hwy. #116.