BY LINDA BENTLEY | NOVEMBER 13, 2013
The Golden Reef Stamp Mill in action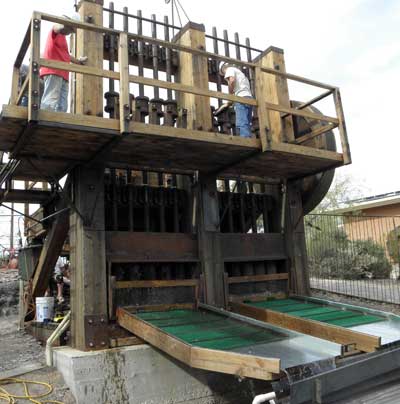 While running the recently restored Golden Reef Stamp Mill for the media on Tuesday afternoon, Councilman Reg Monachino (l) watched as Paul Diefenderfer demonstrated how each of the 10 stamps are engaged and disengaged utilizing a "key." Photo by Linda Bentley



CAVE CREEK – Museum Executive Director Evelyn Johnson calls the recently restored Golden Reef Stamp Mill a "significant piece of the old Cave Creek Mining District's history."

The 10-stamp ore mill operated at the Golden Reef Mine from the 1890s until it was damaged by fire in 1913. Although the stamp mill was rebuilt in 1917, the mine was abandoned after failed attempts to sell.

The stamp mill was donated to the museum by Dr. Marty and Joni Chattman in 2009 and with the help of Charlie Connell of the Arizona Mining and Mineral Museum, APS and countless volunteers it was hauled down from the original site on Continental Mountain and transported to the museum site on Basin Road, 20,000 pounds at a time where it was restored by dedicated volunteers.

Johnson estimates the equipment weighs 60,000 pounds and says it is the only operational stamp mill located within its original mining district and just 5.2 miles from where it operated on Continental Mountain.

The stamp mill demonstration was held just one day before the museum's annual "Miners' Dinner" fundraiser, where attendees will get to witness the power of the stamp mill in operation while dining under the stars with a savory Dutch oven cooked meal, enjoy the talents of guitarist and balladeer Mike Ewing and take part in a silent auction.