BY LINDA BENTLEY | NOVEMBER 6, 2013
Wild West Days called a huge success and stampede
Cave Creek goes Carefree with civility rampage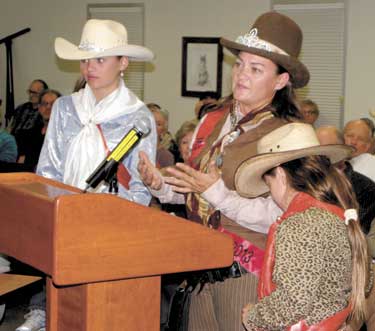 Miss Ellie (c) told council she and her daughter were crowned the Miss Wild West mother and daughter team and said Wild West Days seemed more family oriented this year and people came from all over to attend.
Photo by Linda Bentley



CAVE CREEK – During Monday night's council meeting, Mayor Vincent Francia thanked all who were involved in Wild West Days, with a special thanks to Town Marshal Adam Stein for it being "without incident."

He said it also opened up a new dialogue between Cave Creek and Scottsdale.

Call to the Public brought Johnny Ringo, president of the Cave Creek Merchants and Events Association and chair of Wild West Days, to the podium. He said this year's Wild West Days was "amazing." He said every year the committee thinks of ways to make the event bigger and better and estimated 20,000 people attended this year, calling it a "stampede."

Cave Creek Museum Executive Director Evelyn Johnson introduced her stamp mill "dream team" to council and said they reconstructed the stamp mill without any plans or instructions.
She said it was the only stamp mill in the country that is operational in the mining district where it originated and presented council with a key to the stamp mill.

Chas Lee, director of affairs and stunt coordinator for the third annual Gundown by Sundown, Tom Ladimore, vice president of Arizona Cowboy Mounted Shooting Association, and Patty Coyle, former Fiesta Days Rodeo chair, thanked everyone for a successful event.

Coyle said Black Mountain Trading Post had record sales over the weekend that enabled it to keep its doors open after a dismal summer.

Local ferrier Miss Ellie said she and her daughter were crowned Miss Wild West Days mother and daughter team and found the event to be more family oriented this year. She said people came from all over, including Gilbert and as far away Canada.

Town Manager Rodney Glassman introduced the town's Community Outreach Coordinator Patty Pollnow and presented the finance department with a Certificate of Achievement for Excellence in Financial Reporting for its Comprehensive Annual Financial Report for the Fiscal year ending June 2012.

Alan Everett, director of the Arizona Department of Liquor Licenses and Control, did a presentation for council and said the department's focus is on education, prevention and enforcement.

Rob Bryant of Water Works Engineers presented council with update on the Water Master Plan and Sewer Plan, and said he would need a little additional time for the Fire Infrastructure Master Plan.

With Councilman Mike Durkin absent, council voted 5-1, with Councilman Charlie Spitzer dissenting, to approve the consent agenda with agenda item number two pulled.

Vice Mayor Adam Trenk said there was a typo in the agenda item with the omission of a number six.

With that corrected, council voted unanimously to pass the second reading of an ordinance amending Title III, Administration, Chapter 31, Section 3.5, Manager, by adding a provision relating to political activity by the manager.

Rep. Karen Fann, R-Dist. 1, introduced herself and gave the town a brief rundown of what was going on in the legislature. She said the state "ended up with $895 million to the good," which will go toward paying down the state's $4 billion in debt and restoring services.

She also said there were laws on the books passed by voters that call for cost of living allowance (COLA) increases each year that are compounded. Fann indicated this could be troublesome in the future if revenues don't keep pace with those increases, since the $82 million COLA they had to provide to public education this year will be compounded and hitting the general fund forever.

Fann said she voted no on the Medicaid expansion and explained she did so because she was looking toward the future when the federal government will no longer provide funding.

Trenk moved to pass a resolution he introduced, noting other communities, naming several from out of state, have passed during turbulent times.

He said, "There is too much of a comfort level with negativity in this community," adding, "I'm not going to be silenced by fear."

The resolution decried recalls as an "extreme measure by which an elected official can be removed from office before his or her term has ended."

It also stated the mayor and council "believe that it is in the best interests of the town's people to condemn the promulgation of false criticism and hate speech, to take a stand against unsubstantiated clamoring for a recall election and to actively promote civility and encourage respectful public discourse however possible."

Spitzer, who seconded the motion, said, "It's pretty much a sad state common courtesy has to be codified in this document."

Councilman Thomas McGuire said, "I'm not going to support this. Government is on tenuous ground when it has to decide what civility is."

Councilman Ernie Bunch said he stood with McGuire on the resolution but stated he understood the motivation.

The resolution passed by a vote of 4-2 with McGuire and Bunch dissenting.

Council voted 5-1, with McGuire dissenting, in favor of a new slogan for the town: "Where the Wild West Lives."

Bunch asked if Trenk had done a copyright search.

Trenk said he had.

During public comment, Ringo said he endorsed the new slogan.

Council voted unanimously on a resolution to reduce the town's bank accounts from seven to three and reduce signers on the account from seven to two, the mayor and town clerk.

Bunch commented, "It's easier to keep track of what's going on when you don't have so much going on."

McGuire called it a "wise move."

McGuire introduced an item that would alter the way the permanent town manager would be selected by narrowing the field of 80 applicants to six finalists rather than three, making all applications available to council before the finalists are selected and utilizing a rubric as part of the selection process.

Trenk moved to table the item, stating the process was too far along to change the rules. The motion deadlocked 3-3 with Bunch, McGuire and Francia voting no.

Trenk argued, "This is like changing the rules at half time."

Francia said he would not support the motion to change the process and said it would be different if it were brought up in August when it was first discussed.

He said, "It doesn't send a good message."

The motion to increase the number of finalists from three to six failed by a vote of 2-4 with Bunch and McGuire voting yes.

The second part of McGuire's request was for council to have full access to all the candidates' applications before the finalists are selected.

Bunch moved to keep the information confidential.

Glassman said if council votes to keep the information confidential, it would save staff time from having to redact information.

Francia said to Trenk, "This is going on because they don't trust you, me and Rodney." He said someone used the word "oversight" which he believed meant they couldn't be trusted.

The motion passed by a vote of 5-1 with Councilman Reg Monachino dissenting.

On the third suggestion of utilizing a rubric for evaluating applicants, council voted 1-5 against McGuire's motion.